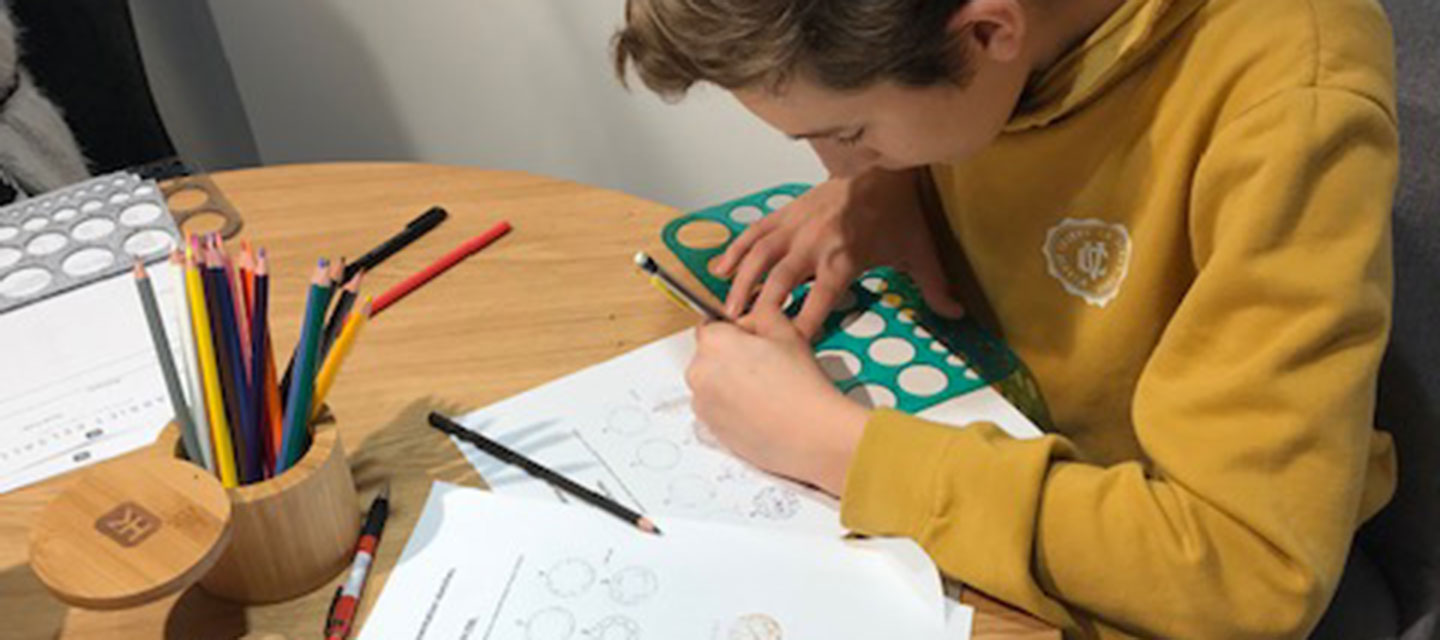 Work Experience at Harriet Kelsall Bespoke Jewellery
My name is Eliott. I am 14 years old and I am French.
I have just spent a week at Harriet Kelsall Bespoke Jewellery on work experience.
On Monday, I was in the company's headquarters which is in Hertfordshire in a small village called Weston. The building is a converted barn.
In the morning, I had a tour of the premises and was introduced to the team. I am fortunate because my auntie is the HR Manager at Harriet Kelsall Bespoke Jewellery so to start with she explained the HR functions within the business. She then presented the company's organisational diagram so that I could work out who is who and how the company is structured.   
I observed a meeting in which the design team talked about their projects for the week.
In the afternoon, I was with Rachel (Web Content and Marketing Coordinator) and she showed me the website. We wrote a description of a ring to go online and then made a display tag for the showroom.
After that, I was then with Sophie (Photography and Marketing Assistant). She showed me how to setup a camera to take photos of the rings for the website.
On Tuesday, I was in the shop in Primrose Hill, a district in London. The shop is in a lovely area so I made sure I was wearing a smart outfit.
At the beginning of the day I helped to prepare the studio for the arrival of customers.
After that I helped a designer to display all of the jewellery in the window and cabinets. 
Next, I packaged a customer order. To do this I put the jewellery into a bamboo box and then the box went into a bag along with the customer's receipt and information about the people who designed and made their jewellery. I ate lunch in a pizzeria during my break-it was delicious!
In the afternoon, Raine (Design Assistant) taught me how to sketch a ring design and how to draw a diamond. I learned lots of tips from her and then I used these to draw my own design.
On Wednesday I was back in Weston.
First I helped the Showroom Coordinator to put the jewellery on display. That day I brought my Nan's ring along with me, she no longer wears it so my mum is going to instead but it needed to be checked and polished first. I was in the perfect place! It now looks even more beautiful because it has been cleaned and polished- my mum will be so happy. 
Next, I observed how the accounts team produce customer invoices. 
I then reorganised the stationary drawers in the office where all of the information cards for customers are kept. These go into every bag along with the jewellery. It was a very busy week before Christmas so the newly organised drawers helped the designers to package everything more quickly.
After that I made a visual timeline which showed every stage of designing and making a bespoke ring.
On Thursday I was in the company's Cambridge studio.
It was there that I started this blog as a diary of my work experience.
Before that I verified customer orders by checking names on the ordering database against the customer names on the jewellery boxes.
Finally I drafted an Instagram post for the business' account which promoted a special pendant. The pendant is heart shaped and £10 from every sale goes to a charity called "Chain of hope" which provides life changing heart surgery to children in poor countries.
On my final day I observed a goldsmith making a ring in the workshop. He used a lot of different tools and he put a flame onto the metal to form it into shape. Then Alice taught me how to sketch a pendant design. Alice can speak French so it was very nice and easy to have a conversation with her but I am so happy that I have been able to practice my English this week. As it is nearly Christmas I got to enjoy a special lunch with the team in the office.
I really enjoyed my week at Harriet Kelsall Bespoke Jewellery and my English has improved. The week provided a unique experience and I have learned so much about an industry that I didn't even know existed before I visited Harriet Kelsall Bespoke Jewellery. I am looking forward to a rest over the Christmas holidays now!
Eliott