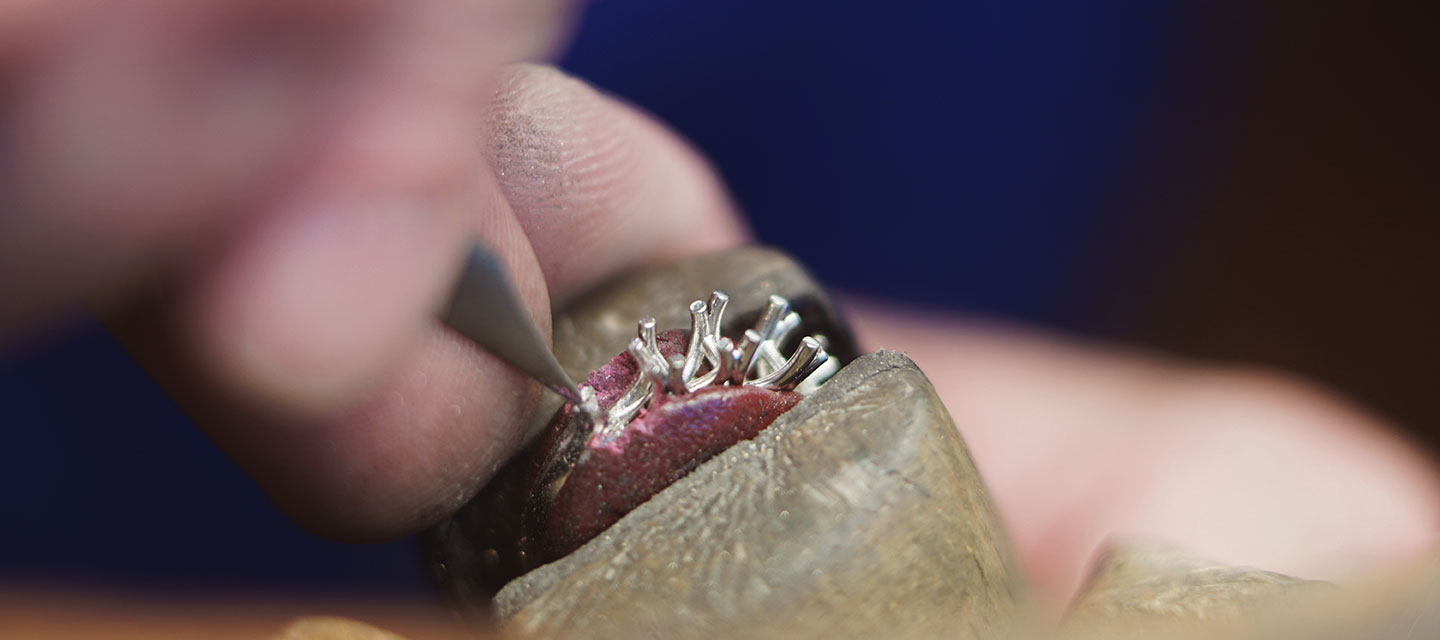 These days, many customers want to invest in a more discerning way of expressing their own style. In a uniform world, where every capital city features the same glossy temples to expensive designer brands, there is a slow but growing movement away from the marketing and hype surrounding what we traditionally know as luxury labels.
Customers are getting more demanding and want a personal connection with what they wear, whether this is through an expression of visible personal styling, ethics or political concerns such as the environmental impact of the materials used.  Millennials in particular are particularly interested in these last points.
Historically, jewellery has typically been made especially for an individual.  When you go to museums and see Roman, Egyptian or Viking jewellery – or jewellery made just 100 or 200 years ago too - this will have been especially made for each individual wearer.  In such times, jewellery was only really made in this way and jewellers would take orders from their wealthy clients and make things for them accordingly.
More recently, the development of retail culture has really changed this.  For at least the last 50 years, most jewellery shops only really sold 'stock' pieces that they bought in from wholesalers or designers.  The concept of jewellery being made especially for people had almost disappeared until recently, except for wealthy people who could afford to commission jewellery pieces with high price tags.
So what does the term 'bespoke' actually mean?  Well it is an adjective indicating something that has been commissioned to a particular specification, so it simply means the same as "made-to-order".  The item in question might be altered or tailored to the customer's specification or completely made from scratch especially for the wearer. 
For a few hundred years, the word "bespoke" was only really used in the tailoring industry.  The word used to conjure up a small dark Saville row gentleman's tailors and I pinched the term from them 19 years ago to use for the kind of jewellery that I wanted to design and create – I remember worrying that the word might be too pretentious or old fashioned but I liked it and happily it caught on. 
"Bespoke" is predominantly used in the UK so sometimes our international customers may not understand this word; the equivalent term in the USA is "custom", for example "we can make you a custom ring".
When I started my business from my kitchen table in the nineties, I set it up to specialise in jewellery made especially for people.  My dad taught me how to make jewellery, he was a very talented jeweller as well as an NHS doctor and he used to make and sell jewellery to pay the school fees.  I made my first ring at the age of 4 and when I told him I wanted to make something he said "Great – draw what you want to make and we will make exactly what you draw".  I drew a huge ring with a purple stone and a rabbit on one side and a cat on the other (obviously!).  But then with his help and guidance, I made it in silver with a large amethyst.  My dad helped me with the blow torch and engraved the rabbit and cat drawings onto the shoulders of the ring for me.  I was hooked. 
I also wanted to be financially independent as a woman and so went to study Industrial Design at university (a BSc – a bit like product design – very feet on the ground).  I went into the computer industry for a few years to design user interfaces but it was deeply uncreative.  During this time I was making jewellery for myself and for my friends and I began taking on commissions which I made from my shed.  I made myself a workbench from a table I bought from a junk shop for £5.  When I noticed that I had a waiting list of over 30 people, none of whom I actually knew (as they were all friends of friends), I finally took the plunge and started my jewellery business when I was 28.
So, the concept of "bespoke" was extremely unusual back then but I knew of the term from the clothing industry as my grandmother was a tailor during the Second World War.  So in 1996 when I made what I think was the first jewellery website, I coined the phrase "Bespoke Jewellery".   Later when I opened our Cambridge Studio and Shop in 2005, we brought the concept of reachable bespoke jewellery to the high street. The idea behind my business was always to offer individual customers jewellery which has been designed and made from scratch for each customer but in a 'down to earth' and reachable way.
Over the past five years or so, the word "Bespoke" has become widely used across all kinds of industry and the term "Bespoke Jewellery" has become widely used too.  An increasing number of shops now offer some kind of "bespoke" service to their customers.  So "Bespoke Jewellery" is a relatively modern phrase for something which has been done for many thousands of years; the making of jewellery especially to order. 
This type of jewellery had drifted away from the high street for many years but it is now back in fashion.  These days it's far more visible with nearly every key fashion house offering a customisable or bespoke design service to their clients.  You can even find ranges called 'bespoke' in department stores.  Whether you or I would think of them as truly 'bespoke' is another matter. 
Bespoke is an individual way of connecting and expressing style.   With many brands fighting for differentiation, the term "bespoke" can be rather loose these days – whether it's offering services to ensure a better fit, customisation to ensure a unique touch to an accessory, or some elaborate craftsmanship to mark out a purchase.   The word "bespoke" is being used incorrectly by many jewellers who think that the word means "special", "up-market" or "hand-made". For example in the statement: "this jewellery collection is really bespoke", both the insertion of the word and the phrase in which it is used are incorrect and meaningless!
In modern times, many different sub-types of bespoke jewellery have formed. When I was asked to help define 'bespoke' for the recently reworked National Association of Jewellers JET Certificate (which used to be JET 1) to help newcomers to the industry understand "bespoke", I listed out my sub-definitions which I hope you too will find helpful.
Customisable Jewellery – this is where there is some kind of pre-made 'starting point'.  These 'starting-points' can then be customised in a variety of ways to create a bespoke piece.  The correct term for this is simply "customisable jewellery" but many jewellers market this as "bespoke".  I guess they are not completely wrong...it is having a process applied to it especially to order but it isn't really made to order, so i'd say it is incorrect to market this as bespoke.  For example, a shop may sell plain cufflinks which can then be engraved to a customer's specifications.  Or a company may sell a fixed ring mount with a setting for a round 5mm gemstone and then the customer can choose which stone type to have set into this mount.
When it comes to pricing or value of customisable jewellery, this can vary quite a lot. I have seen the customisable option presented with badly made thin cufflinks which have been mass produced whereas we offer superior quality handmade pieces.  For us it is an "entry level" form of working which is very affordable.  When we customise these kind of pieces in our studios, we have a fixed price for engraving or setting a small stone into the plain pieces which have a base price.  For example we sell some lovely heavy plain silver cufflinks for £220 and they can be hand engraved or have a small stone set into them from about £90 and upwards depending on the specifications.  However, other jewellers might source some low quality silver cufflinks from a wholesaler for something like £10 and then use an engraving machine. Both options produce customised pieces but the value of course is very different.
Bespoke Assembly This is where a jeweller might provide a series of set jewellery parts which can be put together by a goldsmith like pre-formed building blocks in order to suit a customer specifically.  For example, there might be several different styles of ring shank (bands), several different styles of collet (settings) and several different options of stone sizes, shapes and/or types.  The customer can choose a combination of these and then the jeweller will make the final piece especially for them.  Some of these companies have impressive online tools which allow customers to try different combinations and see images of their shortlist for comparison.  In the trade, we often jokingly refer to this type of assembly as "Meccano" after the traditional children's toy which is a set of components for making mechanical models.
Many jewellers work in this way and call their service 'bespoke'.  Are they wrong?  No not really – it is true that each piece is being especially made for the customer.  And of course these parts can be configured in all sorts of different ways.   However, I think that it would be hard to claim that a piece made in this way is completely a one-off and for our own customers this aspect is often important. However,  some of our customers just want a ring made with a particular configuration or using a particular gemstone and so we too sometimes use this kind of parts configuration approach for certain customers and certain budgets.  We try to be transparent about this and explain it to these customers.
Again, quality of craftsmanship is key here.  One jeweller can assemble some parts and it will look a bit messy and might have a dry joint or not be terribly well polished, whilst a good goldsmith will put these exact same parts together really gracefully and well. 
CAD Bespoke – Some companies offer a type of bespoke service where they will draw up a design especially for a customer on a computer aided drawing (CAD) system.  Sometimes these CAD drawings are started from scratch each time and other times pre-drawn parts can be imported into the program and then put together or altered (a bit like the assembly method above but in drawing form).  This drawing can then be viewed from all angles.  Sometimes these images are then 'rendered' so that they look very much like photographs of a real piece of jewellery.  This can help customers visualise the piece before committing it to expensive precious materials.  The customer can view the computer model and perhaps suggest changes before signing off the idea and requesting it to be made.  Next the CAD design is turned into a resin for casting and then cast to form a roughly cast piece in precious metal and then this is cleaned up and hand finished by a goldsmith.
CAD can be quite an efficient way of working because there is rarely very much wastage of precious metal in forming the jewellery.  However, CAD designs can be limited and some argue that certain pieces created this way lack the 'flow' or 'movement' of those created completely by hand. Nonetheless, it does depend on each individual design and of course varies hugely with the skill of the CAD operator.
Operating a CAD package requires specialist knowledge, not only to draw the items correctly but also to be aware of crucial factors. This fundamental knowledge includes things such as how long the setting claws need to be, how much the piece will shrink when cast into metal and the amount of metal that is needed and where, in order for the piece of jewellery to be durable. 
CAD bespoke orders such as these should be taken from the customer by an experienced jewellery designer who might be employed by the shop or may be a freelance consultant. Jewellery designers who have CAD design experience should know the limitations of CAD systems and be able to advise the customer accordingly.  The designers also need to know how to cost the materials so that they can quote accurately.  Unfortunately many businesses try to train jeweller sales staff on CAD and the results are often unpredictable and can result in many returns when, for example, designs are not durable because they have not been conceived by qualified designers who know about precise construction
Really good CAD operators/technicians or designers do not come cheaply.  Some pieces take many hours to draw on CAD and others take just half an hour.
We work like this in our workshops sometimes and with the recent developments on CAD the software is increasingly flexible. 
Handmade Bespoke - Some companies accept commissions for fully hand-made pieces of jewellery which will be made from scratch by a skilled goldsmith at a workbench.  Sometimes handmade items are "hand forged" from little nuggets of precious metal called "grain" which are melted down at the bench in a small crucible and then gradually formed into jewellery.   Handmade items might start life as pieces of "bullion" (precious metal sheet and wire) which are then worked on by hand to create the jewellery pieces.  Or pieces can start life by being hand carved in special wax and then a mould is made which is used to make a one-off cast.
Orders such as these can be taken by an independent goldsmith who will then make this at their workbench for the customer.  Alternatively these orders are taken from the customers by jewellery designers who might be employed by a jeweller or may be freelance consultants. It is important that the designers taking the orders are experienced and know enough about the design limitations and material costs in order to quote accurately.
Bespoke Design Service –Any jeweller that offers this service should only employ or contract a qualified and experienced jewellery designer who will sit with each customer to discuss ideas for their piece of bespoke jewellery.  There is a large difference between just offering a bespoke service where something can be made for you by a goldsmith (even if it is just meccano) and offering a bespoke design service.  When a customer works directly with a designer in this way (instead of with a shop assistant or directly with a goldsmith) the pieces are usually drawn up and the designer injects creativity, expertise and experience into the process to achieve an enhanced result.  The designer is usually then responsible for working out the price and overseeing the production of this piece and the shop take a substantial commission on each piece.  However this does vary, as sometimes the shop and the designer work together to make these items in-house or to get them made at external workshops.
Clean-Sheet Bespoke Design Service– This is a phrase that we use at Harriet Kelsall Bespoke to indicate a lack of any limitations.  It refers to a situation whereby the bespoke design and making service can go in any of the directions indicated above, depending on the project.  For example, subject to the customer's requirements and what is right for their ideas and budget, their piece might be hand forged from scratch, made from CAD or hand carved in wax and cast, assembled or customised.  This type of design takes a lot of skill and experience to understand when to go in which direction, the limitations and advantages of each method and how to manage the customers' expectations. However, the customer's work will always go through the best route for their project and budget.  The design would first be drawn up either by hand or on a CAD system and then made.
This personalisation of style in bespoke design marks a huge turning point in an industry where, what seems like just a few seasons ago, the 'must have' item was any facsimile of the latest item sported by an A-list star on a magazine cover. Now, people are seeking personalised pieces which will stand the test of time or even better, transcend endless new fashion trends.
In the hands of design experts, your jewellery can be a way of telling a story of your life. This is where we start with a completely blank piece of paper.  For us 'bespoke' isn't just about customising or assembling pre-cast parts...it is about designing and making something that perfectly suits the wearer's style.
We find that we use bespoke jewellery to tell important stories in people's lives.  For example, this was my wedding ring, designed like this because we met on a surfing holiday. The stone matches my husband's eyes. This ring celebrates the birth of my children and contains all the birthstones of my family. And this one? This one is an amalgamation of my favourite aunt's jewellery that was left to me, but it was all quite old fashioned, so I kept all the metal and stones to be re-used into a ring that I just love and she's with me every day watching over me. It's a way of holding onto history but celebrating the present. It can convey sentiment. It tells stories.
Over the years, we've had some amazing stories and when I chat with people about what we do I often say that we feel more like "story tellers rather than jewellers" – sometimes "love story tellers" sometimes "life story tellers".  If you take a look through our work online, you will see a a vast array of styles and inspirations.  We are experts in helping to design and create something which will perfectly suit the preferred style of the wearer.  And also how lovely that now so many of our customers choose for us to tell their stories using Fairtrade gold and ethically sourced materials.