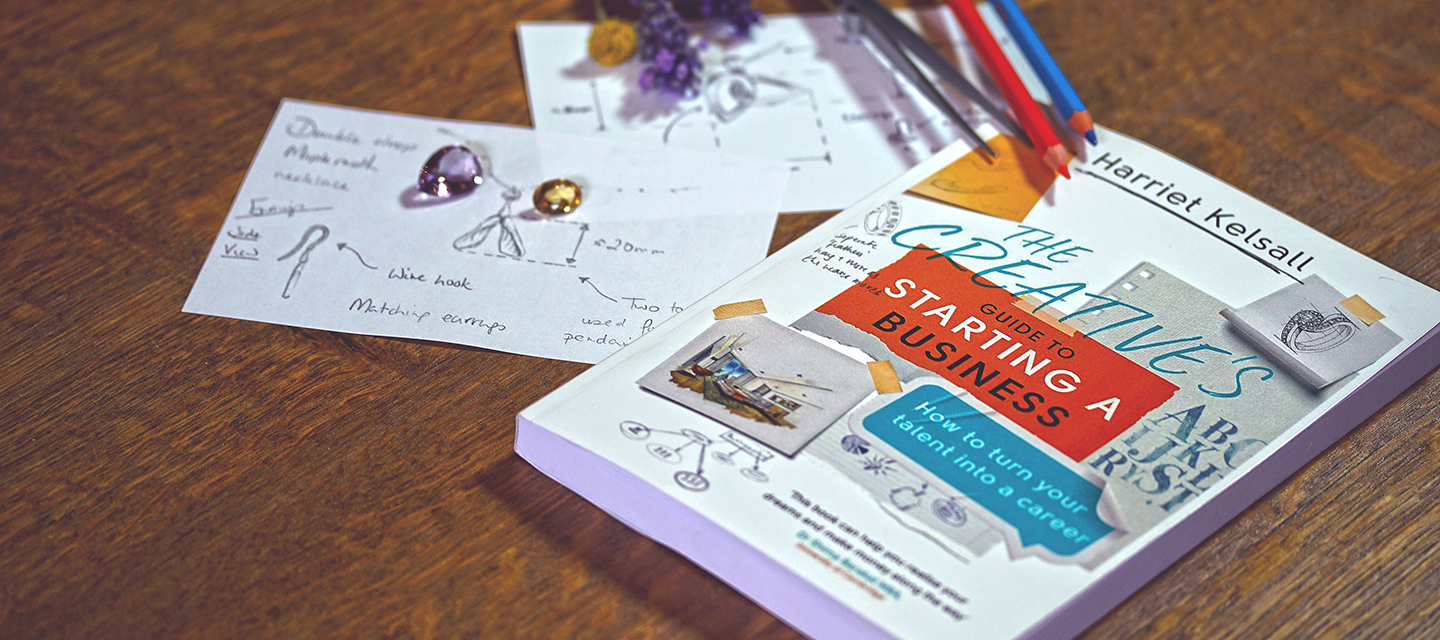 The Creative's Guide to Starting a Business on tour
Harriet's book, 'The Creative's Guide to Starting a Business: How to turn your talent into a career' has now been published and we are all so excited.
The Cambridge team had an inspiring evening at Heffer's bookshop where Harriet hosted a book event to celebrate her new publication- an indispensable guide for anyone with a creative passion for making beautiful items and who wants to turn their creativity into a career. During the talk Harriet told her story and gave her top tips on establishing a successful creative start-up. She spoke with such enthusiasm about her desire to write down her own experiences to help other creative start ups find success.
Harriet's journey began at her kitchen table in 1998 and over the course of those twenty years she has established three studios as well as taking on the role of Chair of the National Association of Jewellers- it is fair to say she has accomplished a lot over two decades. Harriet's book is now another achievement for her but it is ultimately for others as Harriet hopes that people can learn from the journey she undertook to become a self-made entrepreneur and a highly successful businesswoman.
Harriet was brought up in a creative environment and has been surrounded by jewellery from an early age as both her parents were artists but in very different ways. Her love and understanding of jewellery stemmed from her dad who was an NHS GP as well as a passionate jeweller.  In fact, during the event at Heffers she was wearing the first ring she had ever created with her dad when she was just four years old! The ring is very impressive for a four year old and features engraving of a cat and a rabbit either side of a highly set central stone. This was her first experience of the concept of drawing a design and then bringing it to life. Her dad advised her to ensure the ring was re-sizable so she could wear in when she was grown up and indeed she does.
Harriet's mum encouraged her to pursue a path in science and engineering to ensure that she could be financially independent and this led to a degree in Industrial Design. Whilst forging a successful career in this industry, she was also making jewellery in her spare time. She soon realised that she had a waiting list of over thirty people, none of whom she knew- they were all friends of friends.  During the talk, Harriet gave a really memorable piece of advice which was that the one of the keys to knowing if you can build a business is if you have a hobby with which you feel you can do more.
The real turning point for Harriet was what she described as the 'emergency tiara' situation, a story that had us all giggling. It allowed Harriet to see a gap in the market with this thing called 'the internet' which enabled her to send ideas and designs over to someone on the other side of the country in a way that was quicker and more convenient than ever before.
To any creative's wanting to start their own business, Harriet's book is a must-have tool to success; its full of tips from both Harriet and other successful entrepreneurs, interviews, cases studies and advice. There are practical exercises that will help you sell your creations, choose the right time to start your business and guide you through as you do so, as well as guidance on writing a business plan, identifying and reaching customers, researching your competition, pricing products and testing the market.  Harriet advises that the best market research is built from just trying your ideas out! Ultimately, this book will help you to crystallize your ideas and by the end of it you'll have created a business plan without even really noticing!
During the Q&A section of the book launch, Harriet was joined by Laura from Beads by Laura who is featured as a case study within Harriet's book and they made a joke about the moments along their creative business journeys whereby they simply wanted to smash their laptops in frustration. We've all had moments like this before but Harriet advised us that asking the simplest of questions can make the biggest difference, for instance, "do you like my work?", "would you sell it in your shop?"
If you are interested in hearing Harriet's story then she will be at Primrose Hill Library tomorrow evening for a talk, Q&A and book signing.
Next week on Tuesday 16th October, she will be at The Goldsmiths Centre in London to take part in their Creative Links programme where she will be talking about her creative business journey, followed by a Q&A and book signing. Frances from Scabetti and Mohammed from Jamal Perfumers London who are featured as case studies within Harriet's book, will also be coming along to help answer questions at the end of the talk.
On Thursday 18th of October Harriet will be at the Assay office in Birmingham from 6-8pm, again sharing her story followed by a Q&A and book signing. Frances will also be joining Harriet again to help with any questions.
For more details, check out the events section of our website!