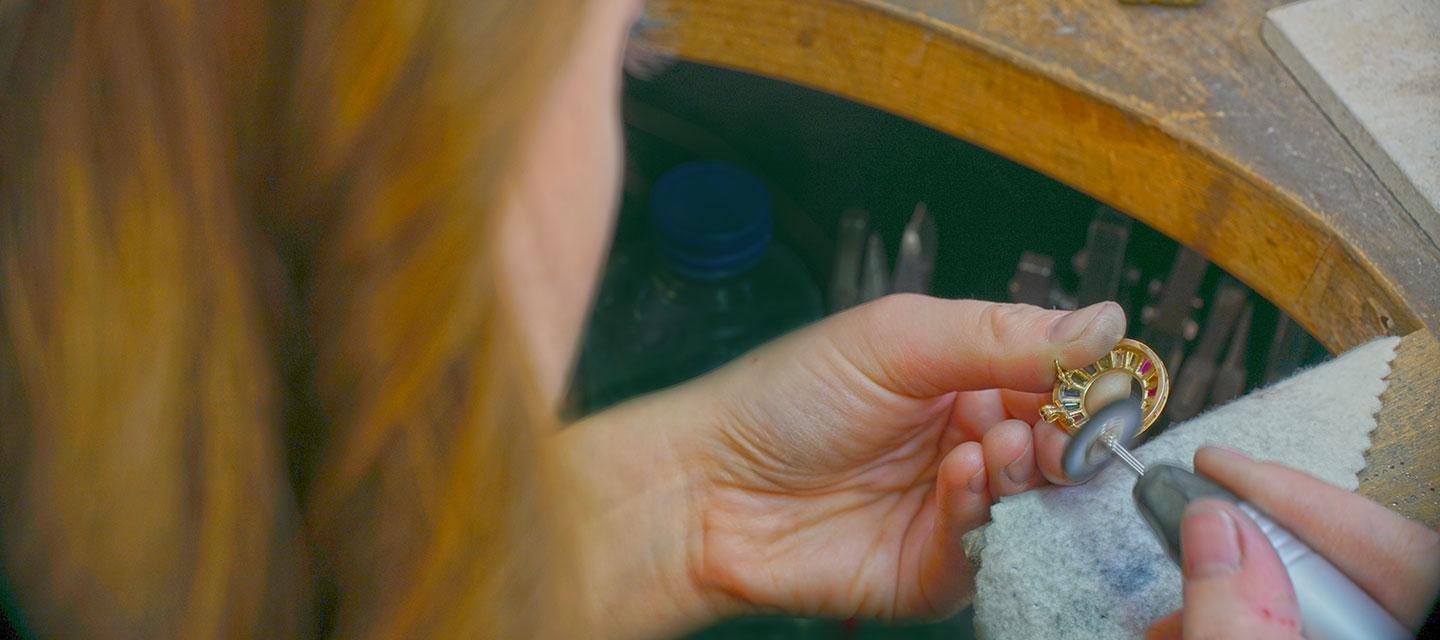 National Apprenticeship Week 2020
After taking part in work experience in the trade from the age of 16, I swiftly became driven to pursue a career in goldsmithing. At the time I was directed to enrol onto The Goldsmiths' Centre Foundation programme. This gave me the 'kick start' I needed, along with my further experience behind the bench, which undoubtedly boosted my confidence and furthered my passion. Being around skilled goldsmiths, tutors and other students with the same passions gave me real inspiration and something to aspire to.
The course ran for 9 months. Being behind the bench for this amount of time meant that I was constantly learning new skills from master goldsmiths and my fellow students. It also gave me fantastic opportunities, such as trips to The London Assay Office, The Goldsmith's Hall Library, two weeks of work experience, and the opportunity to enter The Goldsmiths' Craft & Design Competition (in the design category).
For the competition that year I designed a medal intended to be awarded to The Young Apprentice of The Year. It ended up winning and my design will now be made for the next 10 years and awarded to an apprentice each year. This was a huge achievement for me and something I am very proud of.
The Foundation Programme was the gateway to my apprenticeship with Harriet Kelsall Bespoke Jewellery. I had known from the age of 17 that I wanted to work towards an apprenticeship with Harriet, as the diversity of design and craftsmanship at HK Bespoke really inspired me. The ethics, which are integrated into every part of the company, continue to resonate with me as someone who values sustainability and ethics.

Now three years into my apprenticeship, I am beginning to reflect on my growth as a goldsmith and all that I have learnt. Through learning and growing, the confidence I have in my abilities and my resilience has become ever more prominent. As I continue work on a variety of designs and different metals, I hope to push myself that bit further.
I have many opportunities on a daily basis as an apprentice, but also in other areas such as 'Day Release' and competitions. In 2018 I completed my first year of 'Day Release' which runs from February till June each year. It involves spending one day a week at The Goldsmiths' Centre working and learning from master craftsmen and women in allied trades. It gives us an opportunity to learn different specialisms such as design - technical drawing, computer aided design, small works/silversmithing, engraving, and setting. These are valuable skills that we can transfer into our own work. It gives us a sense of understanding and knowledge in these specialisms that we often have to work alongside with.
We also take part in an annual mandatory review which is held at The Goldsmiths' Centre. It allows us the opportunity to reflect on our year as an apprentice, our growth and achievements as well as a chance to identify points of improvement. This review evening is carried out as individual presentations with encouragement to bring work to show to the 'audience' (which usually consists of 10 or so apprentices and tutors). The presentation is recorded, making it a daunting but important part of the apprenticeship. The public speaking helps to build our confidence and gives a chance for other apprentices to ask questions, furthering their understanding of the type of work you do too.
This year I was given the chance to enter The Goldsmiths' Craft & Design Awards Competition. My piece was a brooch (with pendant fitting) designed by Harriet that took inspiration from the United Nation's Sustainable Development Goals. It was made from a single sheet of Fairtrade 9ct yellow gold and made to mount 17 semi-precious tapered baguettes; each one representing one of the UN's goals and their corresponding colour.
The main feature of the piece was pierced out of sheet metal, while all the 'cut offs' were melted down to make the back features, such as brooch fittings, hinges, wire and the bail. This ensured that there was no gold wastage while making the piece, tying back to the importance of sustainability. The brooch was an amazing opportunity for me, I learnt so much and got to create the most challenging piece that I have made to date.
I recently received my congratulations letter from The Goldsmiths' Craft & Design Council in London, informing me that I have won an award for my brooch. The awards ceremony takes place on the 24th of February 2020 and on that evening, I will find out which award I have won! On receiving that letter I felt ecstatic and an overwhelming sense of pride for all my hard work over the years that led to that moment.
The piece signifies so much in relation to ethics and sustainability, and with the support from Harriet, the designers and senior goldsmith Richard, I am hugely grateful for the chance to make it and enter it into the competition. The faith they have all placed in me fills me with so much confidence.
Being an apprentice is rewarding for the opportunities you're given, for the work you get to put out into the world and for the look on the faces of people receiving their pieces of jewellery that you've worked so hard on. The team you work with and the people who place their faith in you is priceless; and working alongside the designers has made me realise that the passion, responsibility and pride in what we do is shared throughout the whole team.