Michael Mcintyre Christmas Proposal
Hope you all had a lovely Christmas.
If you were watching TV last night you might have seen one of my customers proposing to his now fiancé in front of the audience on the Michael McIntyre show!
The chance to propose on the show came out of the blue when a researcher knocked on Gary's door asking if he and Kate had any interesting stories which they could include as a feature on the show.  What they didn't know was that Gary was in the process of secretly designing a ring with me to propose to Kate with on Christmas day and so emailed secretly to ask if Michael would be able to say congratulations to them both during the show. One thing led to another and before long the new plan meant that Gary was actually proposing on the show live in front of the whole audience. Luckily Kate said yes and their happiness was captured on TV Christmas night in front of the whole country.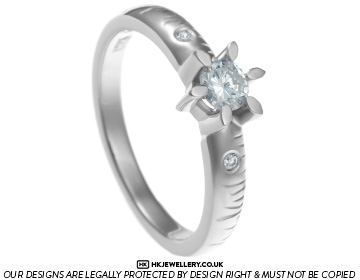 Meadow Inspired Surprise Bespoke Engagement Ring
Kate's ring was an unusual design inspired by an eternity ring previously given to her by Gary which she already wore and loved. Crafted in 18ct white gold the ring was inspired by meadows and so the central brilliant cut diamond is held in a petal shaped six claw setting to give it a delicate flower-like shape. The band itself compliments her eternity ring with engraved lines designed to look like blades of grass in a meadow and two invisibly set diamonds to add extra sparkle in the shoulders.
Kate loves her new ring and it was so lovely to get the email from Gary telling me how well the proposal went. It was such a unique proposal I thought I would share it with you all and spread some Christmas happiness!
Laurie