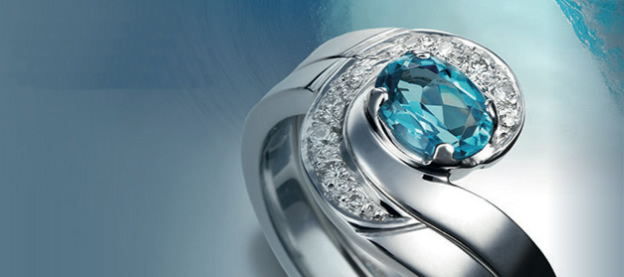 Dramatic Engagement Rings
Dramatic Engagement ring designs
Do you want your engagement ring to make an impact? Here are some ideas on how your engagement ring can be a stunning dramatic design, but really personal to you…
If you do want a dramatic engagement ring there are some considerations to make. Creating drama in a bespoke ring can be achieved through more gemstones, bigger gemstones or a bigger ring overall. Depending how "hands on" you are in your daily life this may or may not be a problem - if you have a bigger ring it is worth thinking about the fact that you may be likely to bash or knock your ring more often, as it may stand off your finger. You could consider a more durable metal as this will protect the stones more and stand the test of time, or a different style of setting to protect the gemstone. For example, an all around setting is more protective as only the top of the stone is exposed. Of course if you don't want your day-to-day life to affect the design of your engagement ring, you could consider not wearing your ring for work, and during any other hands on activities.
Inspired by
The best way to make your engagement ring really personal to you is to incorporate an inspiration into the design. Going for a bespoke design really adds a personal touch as your ring is unique to you. An inspiration can be anything from your hobby, where you first met your partner or something you enjoy doing together or anything that is important to you both. The key to incorporating an inspiration into a piece of jewellery is to use subtle design features and nothing too obvious that may cause the piece to "lose touch" with both the symbolic aspect and the fact that it is an engagement ring. Of course, this is dependent on the inspiration.
This bespoke ring is inspired by the ocean. Its unique use of graduating coloured sapphires combined with the intricate ocean inspired detail on the basket, creates dramatic impact, especially with the stunning oval cut tanzanite in the centre.
One way to make a statement is lots of diamonds or big sparkly diamonds, or an interesting cut such as pear, asscher or radiant cut. To make a real statement you could go for a trilogy of different cuts, which with the right combination could look stunning! When you go for a mix of diamond shapes, each one will catch the light differently and give off its own display of sparkle and flashes of colour due to the way each shape is cut. For example putting a princess cut next to a baguette cut can create an amazing contrast as these two cuts sparkle in very different ways. A princess cut has a lot of facets therefore produces a lot of sparkle, whereas a baguette cut doesn't have as many and has a geometric appearance, so putting them together can create a stunning effect.
This bespoke diamond and palladium twist engagement and wedding ring set is extremely eye catching

Gemstones
If you do want to go for a colourful engagement ring, there are a wide range of gemstone choices, although it is worth considering the durability of the stones you want to go for. An engagement ring is something you tend to wear on a daily basis, and these days we have such hands on lives that it is worth trying to go for a more durable stone choice. However if you do fall in love with a softer stone, its not to say you shouldn't go for this, it just means you might need to take more consideration with how you wear it in your day to day life. With any ring containing gemstones I would say it is really important to take your ring off if you are doing something hands on as gemstones are natural materials and even if you go for a really durable gemstone such as a diamond, it is still susceptible to damage if you are unlucky enough to knock it at the wrong angle.
There are so many exciting ways to create a dramatic ring containing gemstones; you can combine different cuts, a mix of colours, or a classic choice is to combine your gemstones with a diamond or maybe a few. Our gemologist is excellent at finding amazing gemstones in every colour under the rainbow.
This design is a brilliant example of how colourful gemstones can create a dramatic effect. It combines a range of colourful gemstones in a fun and quirky way that creates not only a bespoke engagement ring but a unique piece of modern art.

Unusual single stone
Another great option would be to make your central stone the main focus and choosing an unusual shaped stone is a great way of making your ring unique and personal to you. An unusual cut stone allows you to go for a simple engagement ring style that draws all your attention to your central stone.
Here is a beautiful example of an engagement ring featuring a hexagonal sapphire.

The possibilities for the shaping of your ring are almost endless. You could go for multiple bands, a twisting band, a split band design, curling or twisting shaping- there are just so many choices depending on your preference and style.
Here is a beautiful example of a wave inspired bespoke engagement ring that uses the curling band details to create the settings for the gemstones for a beautiful and dramatic effect.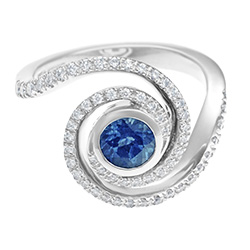 Dramatic bridal sets
Another way of creating an impact is to go for an engagement and wedding ring set that fits together to create a complementary design that almost looks as though it is one ring. There are many different ways of doing this, and if you want to achieve a look like this it is always worth considering the design of your wedding ring whilst you are having your engagement ring designed. This is important so you can achieve the overall look you want of your bridal set once it is complete.
This design is a brilliant way to bring a little drama to your bridal set and features an engagement ring and wedding ring that curl in to the center to fit together whilst creating a beautiful ring set with dramatic shaping.

There are so many different options to add a bit of drama to your engagement ring and these are just some considerations that may give you a little inspiration.  If you want a unique engagement ring designed for you that will suit your personality and lifestyle, contact one of our designers based in our Cambridge or Hertfordshire studios. Get inspired with our dramatic engagement ring gallery.