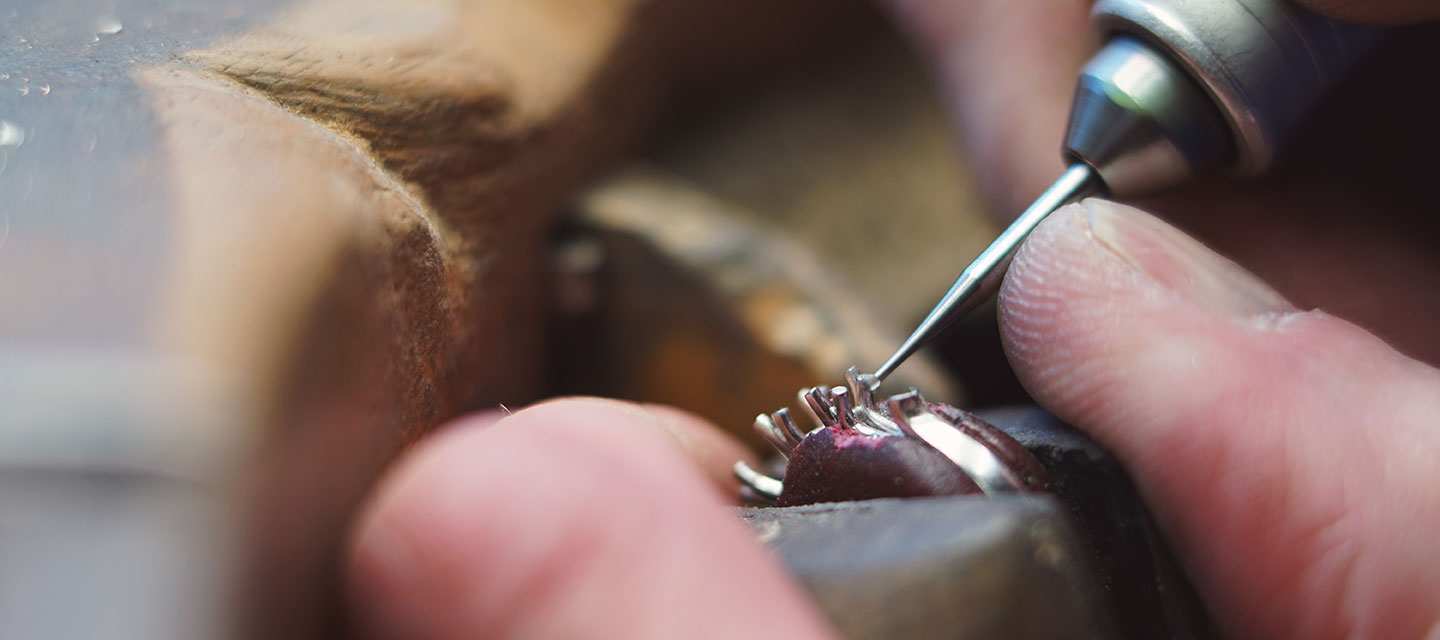 Designing my own engagement ring - the possibilities are endless!
I am currently in the very fortunate position of beginning to design my own engagement ring. As a design assistant at Harriet Kelsall Bespoke Jewellery here in Cambridge, my boyfriend, now Fiance(!) would not have wanted to attempt designing a ring without my input, so when I got down on one knee and proposed to him, we both knew that it would be perfect for us to work together on this.
I spend all day every day around people who are looking to commission their own special, once in a lifetime engagement ring and I am suddenly very aware of how daunting, exciting and stressful this can be. Obviously, I know that I am very fortunate in that I have design experience and a huge passion for jewellery but now I can see things from the view point of a customer too. So, because of this 'insiders view' I thought that it might be helpful to write down a few pointers for designing and commissioning the perfect ring for you.
Remember to enjoy it!- Book your design consultation with a designer whom you feel works within your tastes, you will get a good feel from the profiles on the HK Bespoke website or call the studio and have a chat. Once you have done this relax and enjoy doing your research, how often do you spend your time shopping for diamonds or sapphires!?
Start at the start- What do I like? What don't I like?- Sometimes it is a lot easier to decide what you don't like about something than what you do. Pull up lots of images that catch your eye. Try to pin point the different aspects of each ring that have made you pull it out. E.g." I don't like the stone shape of this one" or "I love the setting type in this one". Take this to your design appointment, our designers will gain a lot from this.
Try it on- Often rings can look so different once they are out of the cabinet and on your finger. Trying on lots of different styles of ring will really help you to narrow down your options. Even if it isn't a ring that jumps out at you, maybe the stone colour or metal tone will be the one for you?
How will you wear your ring?- There are obviously certain activities for which it is recommended that you take your ring off, gardening, rock-climbing etc, however if you want to wear your ring every day, there are choices you can make that will make it easier for you on a daily basis. Often we work with scientists and lab technicians who are allowed to wear their rings to work but spend a lot of time wearing latex gloves so having their gemstones in a low all around setting will help to make it easier to pull these on and off. Another lady recently knew she couldn't wear her ring for work and so had a large dramatic stone set as high as possible because when she wore it she wanted to show it off!  These are all things that your designer will be able to chat through with you.
Budget- We all have bills to pay and so we must be realistic about how much we can spend on this piece. Of course I want something beautiful and sparkly but I do not want this to be a stressful situation for me or my lovely new fiancé! Here at HK Bespoke we happily work with gents who prefer to keep budget between them and their designer, others are saving up together. The designers always ask a new customer whether they have a budget to work to, some people feel embarrassed discussing the money side of things but we are only asking so that we can help you to create the right ring for you. The designers use this knowledge to guide and advise you on the best options for you, your tastes and your budget.
Don't let others sway you- EVERYONE will have an opinion or advice to give you and you may feel that you need to fit in with certain trends or family traditions. This is your ring and although it may be tough to swerve the advice/opinions that people give in good faith, be sure to stay true to your own wishes, if this happens to match others thoughts, great but if not don't fret.
Do take professional guidance and advice- As designers at Harriet Kelsall it is very important that each ring is designed to be perfect for every individual and not for ourselves. As a customer, I do want to hear the thoughts and advice of other design professionals but not necessarily their personal preferences. Here at HK, the designers are highly knowledgeable and generally give advice based on previous experiences, you do not have to take their advice but do take it sensibly into consideration.
Take your time and enjoy this experience- Usually our initial design consultations take around an hour and some people reach the final design at the end of this. Other people can take months to work through their various options and come to a point where they are ready to go ahead with a commission. I will certainly be the latter and I personally can't wait to spend time working on this particular project!
I hope this is of some help to you, I feel like things are a lot clearer in my mind just from writing this! And finally, if you are reading this I probably also need to say Congratulations on your engagement!