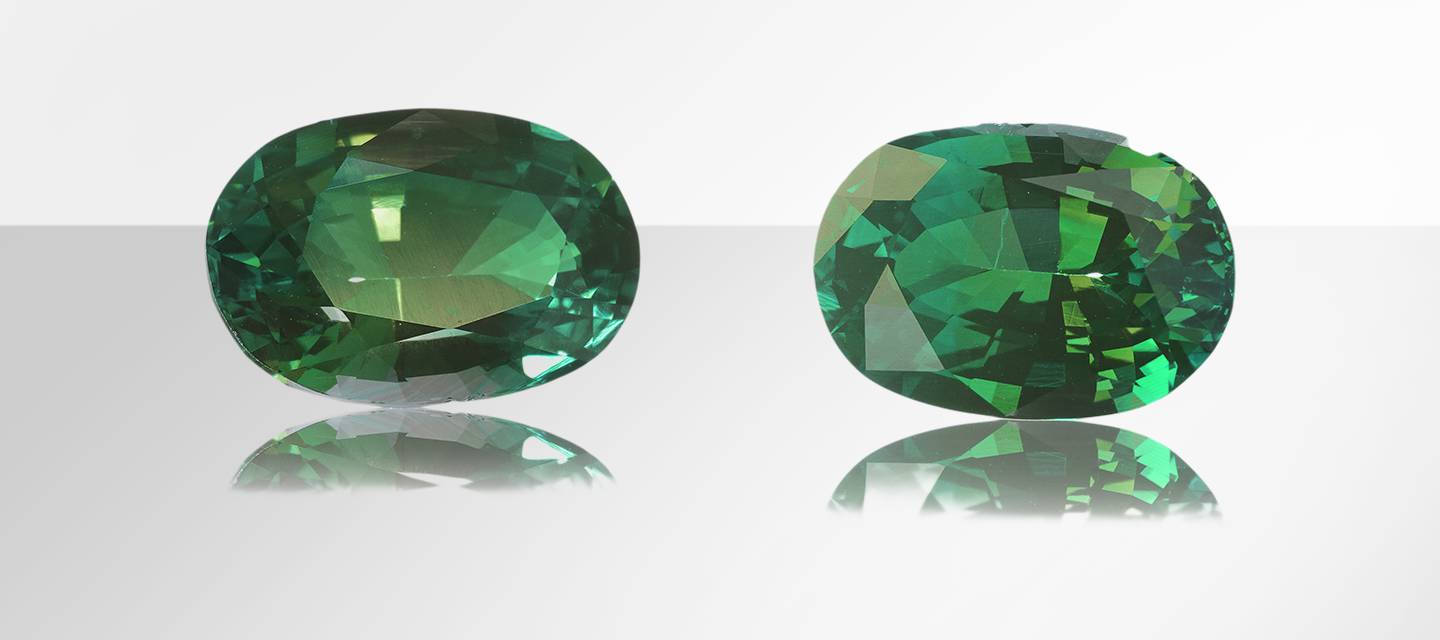 Green is a really popular colour choice at the moment in fashion and jewellery; Pantone has even announced 'Greenery' as the colour of 2017. Rich green botanicals and succulents are also being featured widely across Instagram and Pinterest, with more and more people trying to add a touch of greenery to their homes. Green is also a popular choice for bespoke engagement rings and at Harriet Kelsall Bespoke Jewellery we have definitely seen more customers choosing tsavorite, tourmaline and green sapphires as either the central stone or accent side stones. The lovely thing about green is that it can be the perfect choice if you want something that has a natural, organic or nature inspired look, but it can also be the perfect choice for Art Deco styles too.
Emerald is probably the most well known green gemstone. It is a stunning colour but is a very brittle stone and measures  7 on the Mohs scale of hardness, so it isn't really ideal for every day wear in a piece of jewellery such as an engagement ring. Emerald really lends itself to an Art deco design, especially if you go for an emerald cut stone.  https://www.hkjewellery.co.uk/emerald-engagement-rings
Although emerald may not be the best choice for an engagement ring due to its brittleness, it is a lovely choice for a pendant or earrings as they are at less risk of being bashed or knocked. We have a stunning pair of emerald and yellow gold earrings in our designer collection. https://www.hkjewellery.co.uk/earneck-5024-46mm-brilliant-cut-emerald-earrings-in-9ct-yellow-gold-earrings
Tsavorite is a vibrant green gemstone and it is proving a very popular alternative to emerald for its striking green colour. It is actually a green garnet and measures 7-7.5 on Mohs scale of hardness, and although it is only fractionally harder than emerald it is less brittle and thought of as a good alternative. Tsavorite is a great choice if you want your engagement ring to have an Art Deco look and feel, however the colour can also be a strong leafy green so can work well in a nature inspired ring.
https://www.hkjewellery.co.uk/tsavorite-engagement-rings
Tourmaline is a beautiful gemstone and is available in a variety of green shades (as well as pink and blue). It measures 7-7.5 on the Mohs scale of hardness. Chrome tourmaline has a very similar colour to emerald; however the stone generally have a clearer look as emeralds tend to have a lot of inclusions unless they are very high quality. Chrome Tourmaline is mostly available in oval cut due to the way the crystal grows, although some other cuts are available.
https://www.hkjewellery.co.uk/tourmaline-engagement-rings
If you are looking for a vibrant and lively green gemstone that has more of a lime colouring, peridot is a beautiful choice. Although it is worth noting that as a gemstone it is a little softer measuring 6-6.5 on Mohs scale of hardness.
https://www.hkjewellery.co.uk/peridot-engagement-rings
If you are looking for an option that is more hardwearing and durable green sapphire is a great choice. The colour does tend to be a bit more of a paler green but you can get some really beautiful hues. This is a lovely choice if you want more of a subtle green tone.
https://www.hkjewellery.co.uk/ring-12591-grainnes-handmade-twisting-green-sapphire-engagement-ring
The great thing about green gemstones is that they go with any of the precious metals, if you want a modern design with a classic feel choose a white metal and make the stone the main feature as it will have high impact on the white metal. https://www.hkjewellery.co.uk/ring-9462-bespoke-tourmaline-and-diamond-engagement-ring
If you want a very classic and vintage look choose yellow gold as the warm tones compliment it perfectly. https://www.hkjewellery.co.uk/ring-11179-honeysuckle-inspired-teal-tourmaline-14ct-yellow-gold-engagement-ring
Or if you want a very modern look rose gold and any green gemstone look really vibrant together.
https://www.hkjewellery.co.uk/ring-12947-emilys-vibrant-peridot-and-rose-gold-engagement-ring