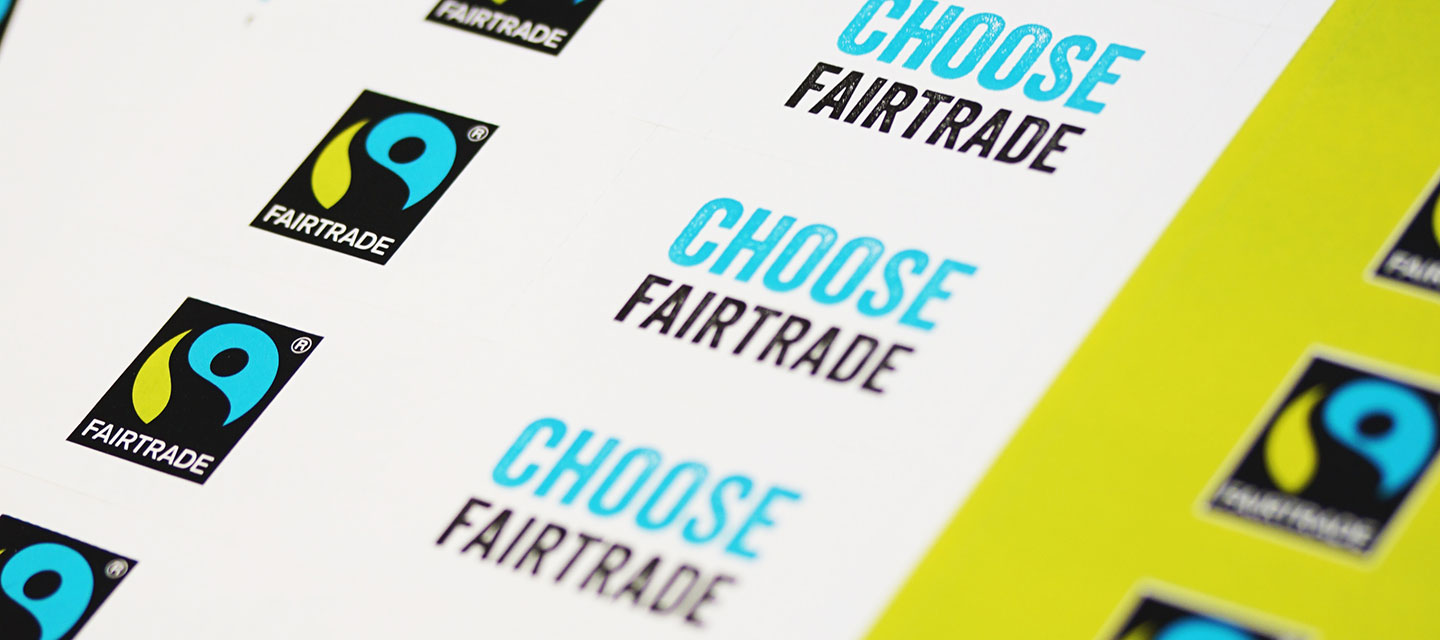 Fairtrade Fortnight Roundup
Fairtrade Fortnight may be over but at Harriet Kelsall Bespoke Jewellery we're still reflecting on an inspiring two weeks that brought to light the need for a living income, especially for small holder cocoa farmers.  
We kick started Fairtrade Fortnight with the unveiling of our March Cambridge window display. The brightly coloured window took inspiration from the iconic green of the Fairtrade logo and the vibrant graphics from this year's #SheDeserves campaign.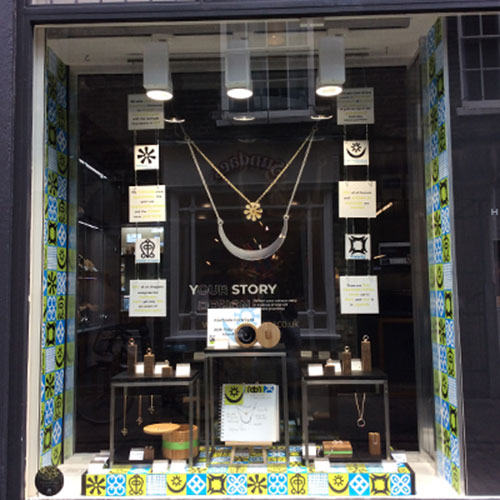 We wanted to think of a way we could highlight Fairtrade gold during the fortnight too so we thought about West Africa where the cocoa beans are grown and the Adinkra symbols that adorn many of the carvings,  fabrics and prints there, each one conveying different beliefs and meanings.
At the heart of the display is our new pendant which is inspired by the Adinkra symbol, Harmony. The design was influenced by "Osram ne Nsoromma" which translates to "The Moon and the Star" and is symbolic of love, faithfulness and harmony. It is based on the proverb: "Kyekye pe aware." (The North Star has a deep love for marriage. She is always in the sky waiting for the return of the moon, her husband.) The pendant is created in Fairtrade 9 carat yellow gold and Fairtrade sterling silver.
As well as showcasing lots of our Ready to Wear jewellery that is crafted from Fairtrade metal, the display highlights lots of different facts about Fairtrade. For instance, did you know that although 93% of UK shoppers recognise the Fairtrade mark, only 16% are aware of Fairtrade gold? Well we hope to increase that awareness by telling all of our customers about Fairtrade.  For a modest extra charge, Fairtrade metal sourced from artisnal miners can be used, and through the Fairtrade chain of custody, miners will receive a premium for their metal which they decide how to invest in their communities.
We also shared the Fairtrade message with students from Loreto College girls school who visited our Hertfordshire Jewellery Centre on Friday 8th March which was also International Women's Day! The 12 students who were selected for the trip had written inspiring letters to their teacher explaining why Fairtrade was so important to them. When they arrived they were treated to delicious muffins made from Fairtrade bananas and chocolate as well as comforting mugs of Fairtrade hot chocolate. With mid morning treats devoured, it was time to learn the facts behind the chocolate they had just enjoyed. To help to explain this year's "She Deserves" campaign, we played a short film created by Fairtrade, 'The Story of Chocolate: Unwrapping the Bar' which looks at the unfairness at the heart of the chocolate industry and how Fairtrade is working towards a living income for cocoa farmers. It specifically focuses on women cocoa farmers and the role of women in community development.
After the film Harriet talked to the students about why Fairtrade is so important to us and why we were getting behind this year's campaign even though it was about cocoa and not gold. Harriet explained that CEO of the Fairtrade Foundation, Michael Gidney said, "a banana is not a banana; a cup of coffee is not a cup of coffee; a bar of chocolate is not a bar of chocolate; they are all millions of stories". At Harriet Kelsall Bespoke Jewellery we believe that a piece of jewellery is not just a piece of jewellery either. Fairtrade has always been really important to us and back in 2011 we were one of 20 jewellers worldwide to launch Fairtrade gold with the Fairtrade Foundation.
Following on from this the students heard from April, Head of Design, and learnt about her career journey with the company. Next they observed the goldsmiths at work before taking the opportunity to design their own Fairtrade pendant. They gathered round designer tables which were set up with lots of inspirational images to help them get started. The design theme for one group was flowers whilst the other was butterflies and bugs.
The students came up with some wonderful designs and Harriet and April were very impressed with their work. The winning design was by a student called Lottie. She managed to incorporate lots of symbols of women's empowerment to celebrate International Women's day today.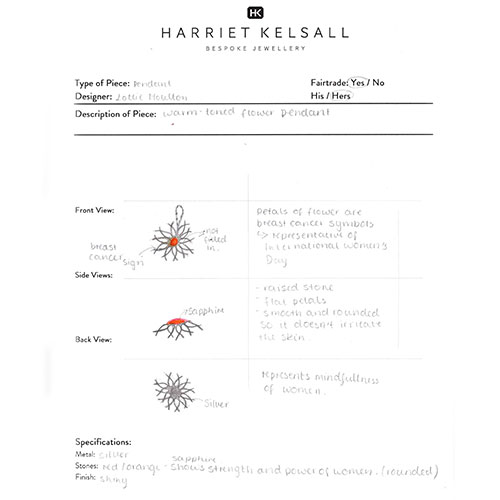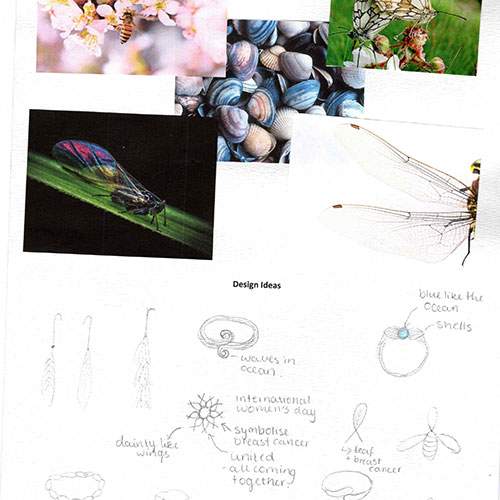 Lottie's sketch will be professionally drawn by one of our designers and presented to her as a prize.
Each student left with one of our tote bags, inside which was a bar of chocolate from Divine the only chocolate company in the world which is 100% Fairtrade and owned by cocoa farmers.  During the trip I was chatting to the teachers about what they had given up for Lent and it got us thinking that instead of giving up chocolate for Lent we should pledge to only buy Fairtrade chocolate during Lent because in the words of Fairtrade banana farmer Diomedes, "Fairtrade is freedom, it's communication, it's sustainability, it's empowerment, it's everything for us in a world that's so competitive".