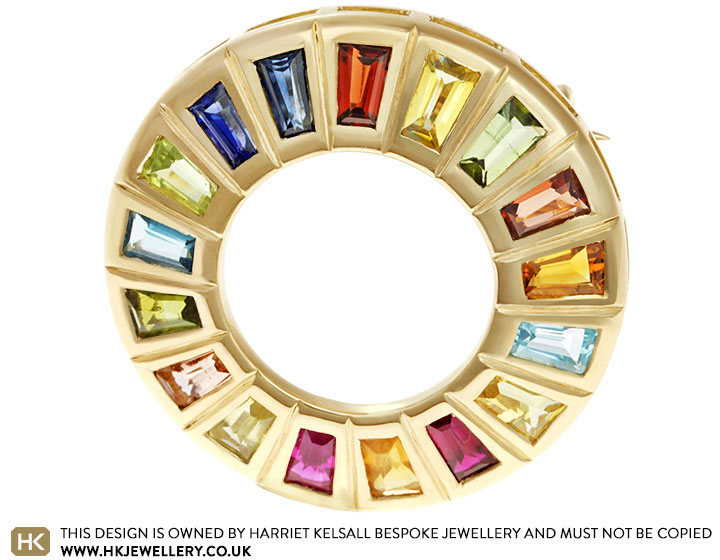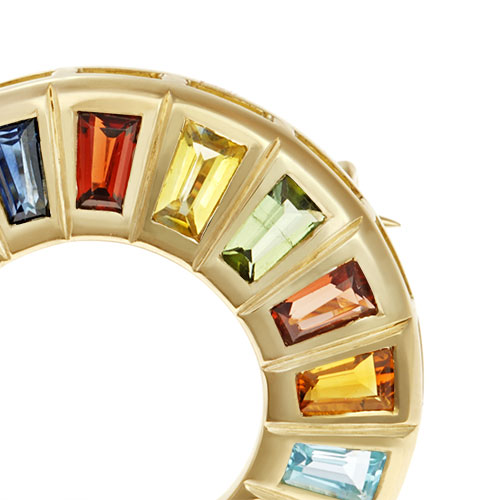 United Nation's Sustainable Development Goals Inspired Brooch and Pendant With Garnet, Sapphire, Tourmaline, Citrine, Topaz, Ruby and Peridot.
This incredible piece of jewellery has been designed to be stylish and adaptable. The piece can easily be worn as both a brooch or a pendant thanks to a clever hinged bail design.
The piece itself has been designed by Harriet to be worn in multiple ways, reducing waste and encouraging re-use. Entirely handmade by our talented goldsmith apprentice, Maisie, who dedicated just over 75 hours to the piece. It has also won an award at the Goldsmith's Craft and Design Awards 2020 which will be celebrated later this month.
This elegant design takes inspiration from the United Nation's Sustainable Development Goals (SDG) logo, which aims to map out a "blueprint for peace and prosperity for all people and the planet, now and into the future". It is made up of carefully chosen tapered baguettes, which represent each one of the goals and its corresponding colour. Clockwise from the top the custom cut stones are: garnet, yellow sapphire, green tourmaline, garnet, golden citrine, Sky Blue topaz, yellow sapphire, ruby, citrine, ruby, yellow sapphire, imperial topaz, green tourmaline, Swiss blue topaz, peridot, and two further sapphires.
To coincide with the core values and ethical focus of the United Nation's SDG's , the design has been consciously hand crafted from a single sheet of ethically sourced Fairtrade 9ct yellow gold. The Fairtrade Foundation's support for small-scale miners, their communities and environments goes hand-in-hand with many of the Sustainable Development Goals put in place for 2030, including: 'Sustainable Cities & Communities' and 'Responsible Consumption & Production'.
The Fairtrade gold was used responsibly, with any 'cut offs' having been melted down and used to create the fitting and fixings for the back of the brooch, as well as the cleverly designed bail – drastically reducing wastage.
Enquire about this Pendant
On display in our London Jewellery Shop & Studio
0% finance options available
Please note: As natural materials are used and our jewellery is hand crafted, slight variations in colour and size may occur.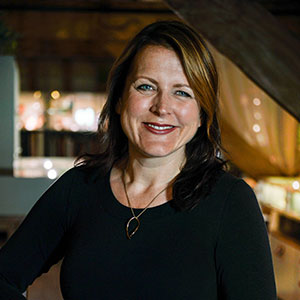 Design by

Harriet Kelsall