Yesterday Harriet and I were at St Paul's Cathedral for the launch of the Fairtrade Foundations I Do campaign promoting Fairtrade gold wedding rings. The event included a spectacular human ring of gold with actors dressed in gold lycra forming a human ring on the steps of the Cathedral!
Passersby were tweeting pictures and gathering to watch as they were intrigued about what was going on-  it was a great chance to let them know of the existence of Fairtrade gold. Despite 64% of UK consumers knowing about Fairtrade products such as tea, coffee and chocolate only 16% are aware that they can also choose Fairtrade gold for the jewellery. We really feel it is just a case of awareness and if we can spread the word more people will choose to use Fairtrade metal.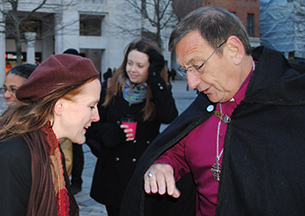 Luckily the Fairtrade Foundation has received lots of support from Bishop Michael Doe, who was at St Paul's during the event being interviewed about his support of Fairtrade gold and was particularly eloquent at explaining how deep an impact it has on the lives of miners who work in terrible conditions in a dollar a day economy just to survive. The human ring of gold itself symbolised each person in the gold supply chain from the miner to the end consumer and it really highlighted how many people's lives you can effect by choosing a Fairtrade gold ring.
After the event at St Paul's Harriet was whisked off by BBC World for an interview about her support for ethics in the jewellery industry and Fairtrade gold. She was able to show the BBC some of our Fairtrade engagement and wedding rings as well as one of her own maple moth gold pendants which she designed to symbolise growth and new life- a message which is reflected by the impact Fairtrade has on the lives of people worldwide who are benefitting from fairer and safer working conditions.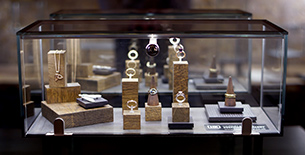 The day then finished with an exhibition of the jewellery in Central London and a talk by Amy Ross from the Fairtrade foundation about the lives of miners and the real difference a couple can make to improve dangerous mining conditions by choosing Fairtrade gold for their wedding rings.