Fair trade engagement rings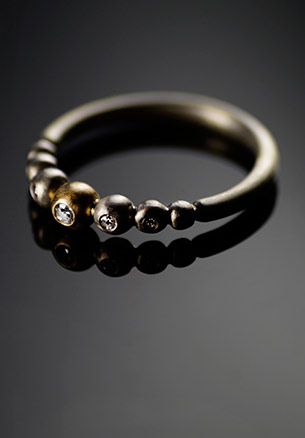 Our jewellery designers have been working on a special design project to create a series of engagement rings and dress jewellery based on their own design inspirations. This has been something of a novelty for them as usually they would be working to a customer's brief rather than their own inspiration.
Each designer was asked to create 3 Engagement rings and 2 sets of dress jewellery which reflected their research. The brief was also that at least one ring from each designer was to include Fair trade metal.
Some of their inspirations have been very diverse, from dreamlike flowers and organic forms to the ordered symmetry and structure found in Japanese origami. Laurie's was based on delicacy and intricacy of wildflowers... April's was based on vintage lace - a throwback to her heady days of trawling the lace markets in Nottingham as a student!
We offer Fair trade metals as an option...it's a way for customers to support small scale artisanal miners to have a sustainable livelihood for themselves and their communities.
All of the pieces in this special design collection are available through the website or via either of our studios.