Diamond solitaire engagement ring with engraved petal details
As you all know this weekend is Valentines weekend! If you were thinking of popping the big question but haven't yet decided on a ring then why not take a look at our handmade and unique ready to wear engagement rings. Our classic designs are always popular; this ring is stunning and a perfect way to show how much you love her.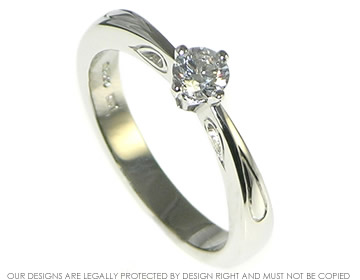 The diamond in this platinum ring is 0.27 carats and the quality is H SI. The stunning brilliant cut diamond is held in a classic and feminine four claw setting so this really shows of that diamond. The platinum band also tapers towards the stone and has petal like shapes engraved on each shoulder. If you look at the ring from the side view you can also see those cut out petal shapes, which really does give it that extra special touch.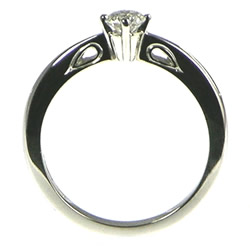 Or if you like to go for something that is just that little different with a romantic feel we also have this unique engagement ring.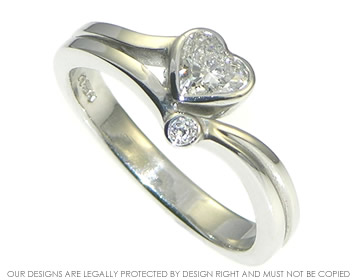 This platinum ring holds a 0.40 carat heart shaped H SI diamond and is accompanied by a 2mm brilliant and fully cut diamond. This ring is inspired by the route to one's heart. The engraved lines flow from the brilliant cut diamond and leads around the band to finally meet up with the heart shaped diamond, representing the journey through life to the one you love. This ring is such a gorgeous design and the stones are perfect to offset the spark that two people feel for each other.
Valentine's Day can be translated in so many different ways. It is a day to explore your romantic side and to show the one person who means the most to you how you feel about them. This can be a grand gesture of over the top madness, breakfast in bed or simply and little poem in a homemade card. It is also a good excuse to give your partner an extra big cuddle and a kiss so, if we can be of any help to get the right present, come and visit us and we will make your weekend one to remember.
Leanne