Diamond and platinum engagement ring
This beautiful engagement ring is a new addition to our ready to wear engagement ring collection, currently in our Cambridge showroom. This truly sparkly engagement ring is all ready to dazzle for the Christmas period, and would make any girl happy this Christmas!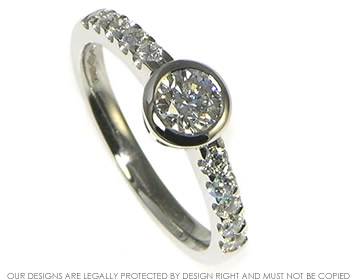 Normally I am not as drawn to the more classical diamond solitaire ring but this ring is so so sparkly it's hard not to look at it longingly as it catches the light and sparkles away in the cabinet.
It is made from a 2.3mm wide Platinum band with a central all round rub over set 5.2mm brilliant cut H SI Diamond, and just to add a little extra sparkle there are 10 shoulder stones, five 2mm brilliant cut H SI diamonds on each side. The way in which the diamonds have been set really helps the diamonds to sparkle as it lets it lots of light. The shoulder stones totals 0.33ct add that to the 0.54ct of the central diamond and you really are left with a wow factor engagement ring.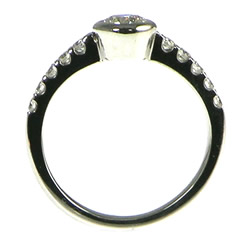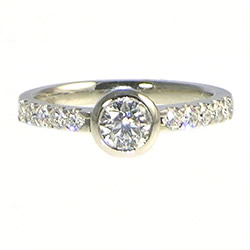 My favourite piece of the design has to be the profile; it really is just stunning the way the band slightly tapers as the side stones step down the shoulders. With all this sparkle it might make the design sound over the top but the over all the design of this ring is elegantly simple yet undeniably stunning.
In the run up to Christmas it is inevitable that I won't be watching it sparkle for much longer.
Michelle