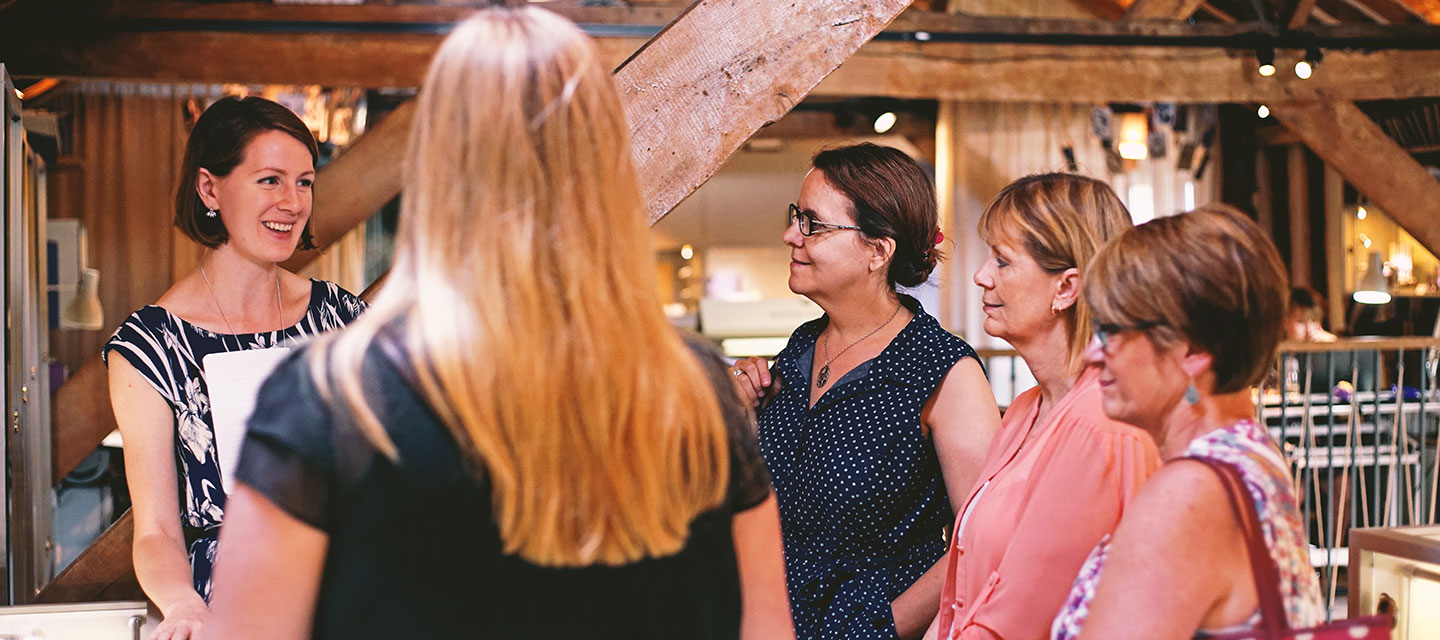 A few Wednesdays ago, our Hertfordshire Jewellery Centre was lucky enough to host an evening for The Ardeley Women's Institute. Nearly 20 ladies came out to see us, travelling across a few villages to reach us in Halls Green.
They arrived towards the end of our working day ensuring they could have the run of the studio. Upon arrival we split them into two separate groups, one group heading upstairs to view lots of beautiful jewellery and the other remaining comfortably in the coffee shop. The upstairs group met with Laurie, one of our Senior Designers, who firstly took the time to introduce the women to Harriet Kelsall Bespoke Jewellery and give them a brief history of the company. From here she chose to speak with them about some topics that are very important to us as a company–our ethical approach to jewellery making and Fairtrade gold. For further reading on this topic, please find some of our ethics based articles here https://www.hkjewellery.co.uk/jewellery-articles/?tag=Ethics
Meanwhile the group in the coffee shop enjoyed a chat with myself, and a fabulous designer of ours, Francesca. I spoke briefly about what I studied at university and my journey towards joining Harriet Kelsall Bespoke Jewellery. We then talked about every aspect of our jobs, from how initial consultations work through to a customer collecting their finished piece and every step in between. The group then asked us lots of lovely questions- in fact there really wasn't an aspect of designing precious pieces which the ladies failed to ask about!
Ryan, one of our Senior Goldsmiths was also in attendance and continued his work in the workshop to give the ladies an insight into a 'day in the workshop', showcasing how we work with precious metal, as well as just how many tools a professional goldsmith needs on their bench (it's a lot!)
Sophie, our event planning extraordinaire, curated this lovely evening and encouraged the ladies to bring in some of their own jewellery for us to look at. We were offering free jewellery cleaning during the evening, so many left with much sparklier pieces than they arrived with,  as well as a whole host of tips, and advice on how to best look after their precious jewellery of all varieties. Our designers also took the time to advise on repairs, and answer any other questions. Ryan looked over one opal ring and instantly picked up how worn the claws were and the fact that there was very little metal left holding the opal. He was then able to advise that in such a condition the ring shouldn't be worn as there was a great risk of the opal being lost, which would have been a massive shame- especially since the ring was over 100 years old!
Once the ladies had their fill of browsing the cabinets, purchasing new pieces and picking the brains of our designers, they decided to forsake our offer of tea and cake in favour of stopping in at The Rising Sun in Weston, for a lovely pub dinner.
It was wonderful to meet all the ladies, and to be able to give them an insight into Harriet Kelsall Bespoke Jewellery. We hope they enjoyed their evening as much as we did!