10 years in our Cambridge Jewellers
In May 2005, heavily pregnant with my son Thomas, I cut the ribbon and opened our lovely City Centre Cambridge Jewellery shop and studio.  In many ways it is hard to believe that was 10 years ago but as I look at my son, almost as tall as me, it is easier to believe. 
Much has changed in that time – we have been through a major recession and now we find that we are one of only 2 businesses on Green Street that have survived the last 10 years.  But not only have we survived but we have also grown and flourished and been warmly accepted into the community of Cambridge.  We have won many awards including several specifically for our Cambridge jewellery shop and a national jewellery award for innovation on being the first jeweller in the UK to bring real bespoke design to the high street.  We have helped to trail-blaze the introduction of Fairtrade gold into the UK in 2011 and later that same year we became the first independent jeweller in the UK to be certified by the Responsible Jewellery Council.
Many people ask me how we chose the location for our Cambridge jewellers.  There are a few reasons and we are very pleased that we did come to this beautiful city.
If you asked me if there is a common style amongst our customers, I would say no – every single piece is unique and usually bespoke being designed made especially for the individual.  So each piece is different and made to suit the style of the wearer.  However perhaps there is one common thread which is that we often find we are expertly stitching together contemporary design with a traditional symbol of a relationship or life-moment.  This is why Cambridge felt so right – here, you walk in a historic city steeped in tradition which is also on the vibrant cutting edge of research and education.  So for us the marrying of classic and modern in Cambridge suits our brand and our customers perfectly.  And of course the architecture here is also very inspiring for us as designers too.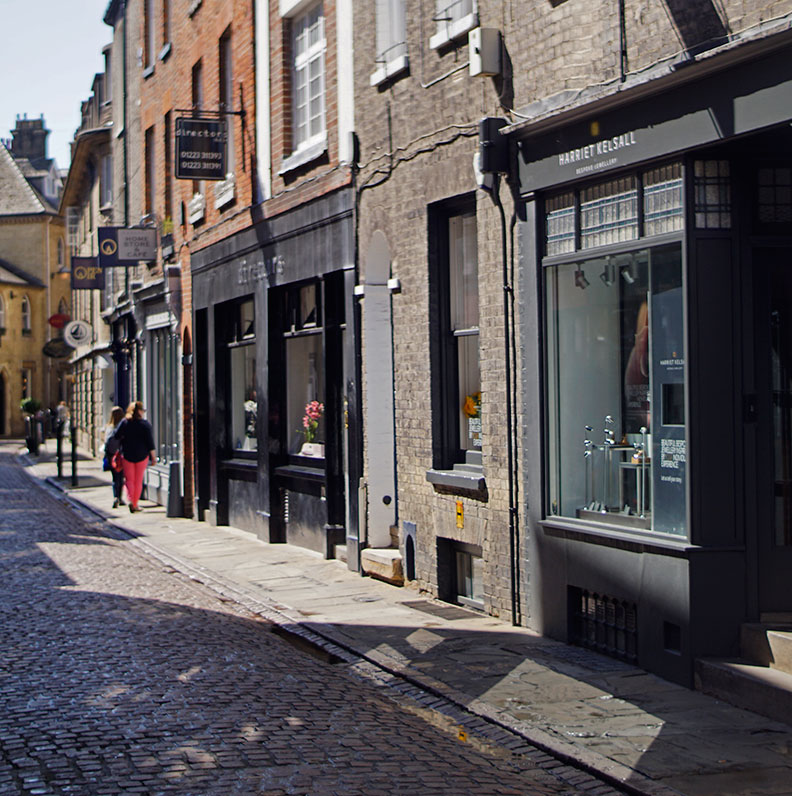 This Cambridge mix of the traditional with the modern also suits the way in which we work.  We use many traditional methods like hand drawing and goldsmithing by hand.  But we also use cutting edge technology where it is the right tool for the job too like CAD for certain designs which are not best made by hand and Skype for our international consultations.
We love the people here in Cambridge.  If you take a snap shot of the people at any moment in Green Street you are likely to see a very diverse selection of people.  On any day we are equally likely to be visited by a research scientist, a history student, a busy mum, a fashion designer, a film maker, an artist, a builder, a retired fellow of one of the colleges and a lawyer.  The mix of people is wonderful and as a collection of designers who are so inspired by individual personalities, we find this hugely inspiring.  We never know who will come in next.  We have designed rings based on customer life stories inspired by  subjects so diverse as DNA, ocean beds, binary, the Chrysler building, juggling, turtles, a Mobius twist, a family coat of arms, a doodle, an allium flower and much more.  It is hard to imagine people more inspiring to work with.
We didn't want to be on the main drag where all of the shops that you find everywhere can be found.  We are experts and specialists...in fact we are one of the UK's leading bespoke jewellery design companies – so we chose Green Street.  A location for our Cambridge jewellers which is just a stone's throw from the market place but is cobbled and unusual, and where we are surrounded by interesting independent specialist businesses and great cafes like Catesby's and Harriet's tea rooms (no relation but what a great name for a tea room!).
All of us here have also loved Cambridge for many years and so a reason to be here more for the bespoke jewellery design studio was great on a personal level too.  I live close to Cambridge and now my children are at school here too.
Our jewellery centre in North Hertfordshire is not too far away and as we make everything there, so choosing Cambridge also happily made practical sense.  It is lovely that many of our Cambridge customers often pop over to Hertfordshire to enjoy our coffee shop whilst they watch the jewellery being made through our glass walled workshop, and many enjoy visiting our Hertfordshire jewellery designers too about different projects.  So the fact that our two locations are not too far apart is a bonus.
I hope that we will enjoy many more decades in Cambridge and that we will continue to be part of the wonderful community of this historic city.