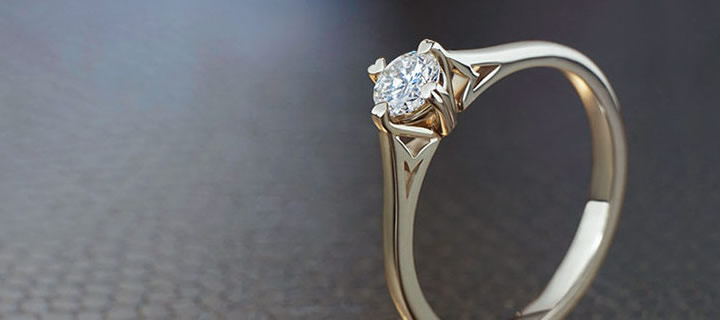 Setting types for your engagement ring explained
Choosing the correct setting type for your engagement ring can be confusing.
There are various reasons and myths for and against each type, but usually it comes down to your visual preference. We can then guide you from there on the most suitable setting for you in terms of your lifestyle and the type of gemstones you have chosen. Below is an overview of the various types of setting available for your central stone and how you might consider them:-
Claw Set

This is a classic and can be done with four, six or eight claws in various orientations. It is a beautifully traditional style that people often prefer because they feel it shows as much of their gemstone as possible and can be incorporated with intricate detail around the side of the setting. Some people veer away from this if they are looking for something that will not catch on things; scientists tend to avoid the claw setting as it is not particularly compatible with vinyl gloves being pulled on and off.
All around set

A crisp, clean, contemporary look, an all around setting is sometimes recommended for certain softer gemstones. Some people prefer not to have a lip of metal all the way around the gemstone as they feel it doesn't let in enough light. However, remember that diamonds are internally refractive and if well proportioned, will always bounce incoming light from the top straight back out at you!
Corner/Side and End Only set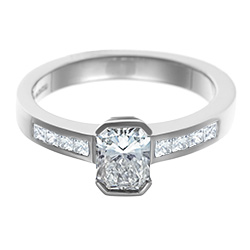 This setting style can be used to create unique design features within your ring whilst still giving a secure mount for your gemstone. This type of setting is recommended for stones with corners and for people who are not keen on claws but want to create an interesting side view of their stone.
Open Tip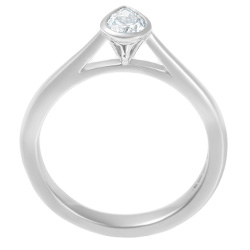 An interesting and contemporary setting style without fuss. The front view is that of a simple crisp all around style whilst creating interest from the side view. A unique design can be achieved using shaped cut out detail alongside the view of the gemstone.
Tension Style

A clean look, giving the impression of a floating gemstone. Note the word 'style', this is because the commonly known 'tension' setting can cause problems. If a stone is set using only the tension of a band and the band is knocked in any way, the setting is at heightened risk (any setting, if knocked in the wrong way can be at risk however this is certainly more risky). We like to add a connecting strip of metal below our tensions style settings so that the aesthetic remains the same but the strength of the piece is increased.