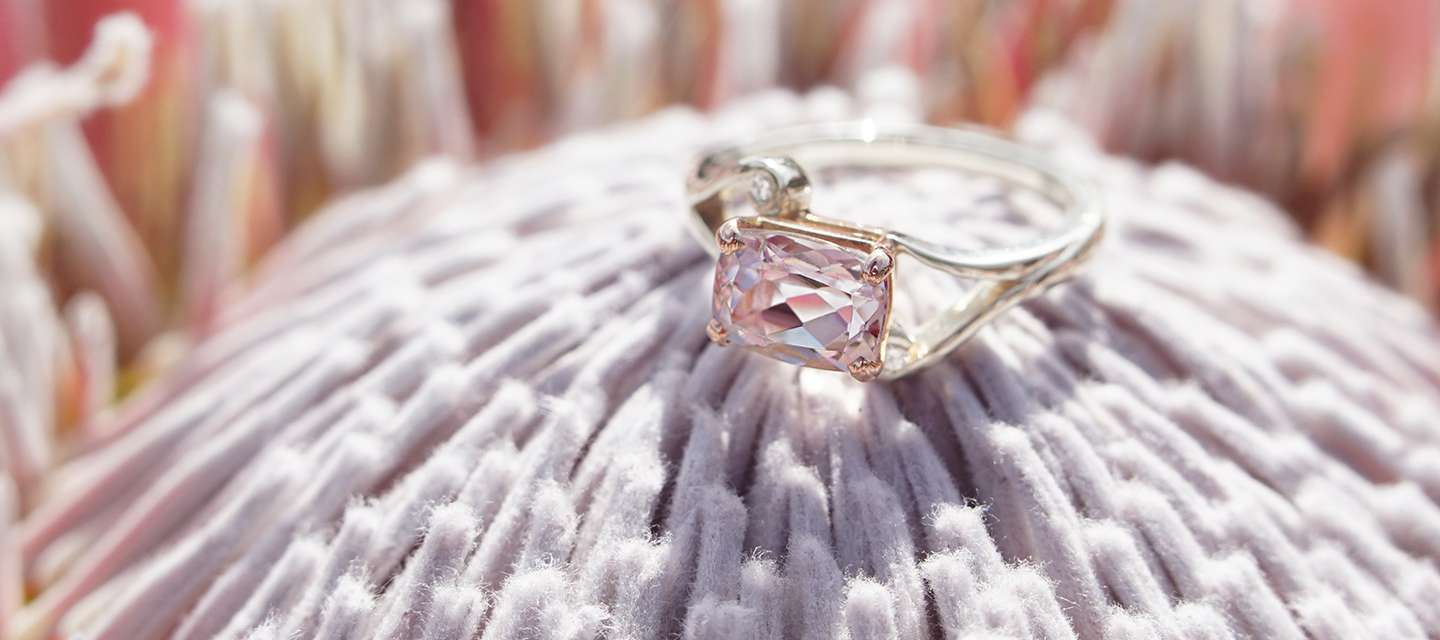 Morganite was discovered in the first decade of the 20th century in California. Shortly after in 1908 deposits were also found in Madagascar, followed by Brazil, Mozambique, Namibia, Afganistan, and Russia. Although deposits can be found in many different countries the gem still remains relatively rare. Unusually, its rarity actually makes it very affordable, since the quantity is not always high enough to cut and produce larger stones. Although, those that are willing to seek the beautiful pink hued dazzling gemstone, for its soft muted shades and sparkle can source larger stones. 
In fact, the largest facetted cushion cut Morganite weighs in at 598.70 Carats. It was sourced from Madagascar and is currently on exhibition at the British Museum.
Morganite, often referred to as the 'pink emerald', most likely for its obvious pink appearance and because like an emerald it belongs to the beryl family of gemstones. Spiritually it is believed that the stone has metaphysical properties as it vibrates vigorously at both the heat at the thymus or higher heart chakras. Like the well known green emerald it also resembles the meaning of divine love.
It was in 1911 that Morganite first really got its identity when it was renamed by G.F Kunz a New York gemstone expert, named in honour of the banker and mineral collector John Pierport Morgan, Morganite for which it is most commonly known today.
Morganite is a member of the beryl family of gemstones, a notable group of gemstones, to include Aquamarine, Emerald, Morganite and Golden Beryl. All of the beryl gemstones are aluminium beryllium silicates and have a hardness of 7.5 – 8 on the Moh scale (a scale that measures the hardness of a gemstone) so is a durable gemstone that is perfect for every day wear and is becoming ever more popular in the jewellery industry today.
The list of beryl gemstones are distinguished significantly by their clarity and transparency but also by their individual colours. Morganite is most commonly known for its pale pink hues, but can also be sourced with salmon pink, orange hues and sometimes even purple, violet.
Morganites Spiritual and Healing Properties
Morganite is an extremely popular choice for the more spiritually natured amongst us, because of its healing properties for which it is known to have many. The stone is considered as an antidote or remedy to cure the problems and stresses caused by our modern hectic lifestyles. It is believed to be a reliever of stress resulting in a feeling of clarity and a pleasant feeling of relaxation, peace and harmony, and overall joy of life.