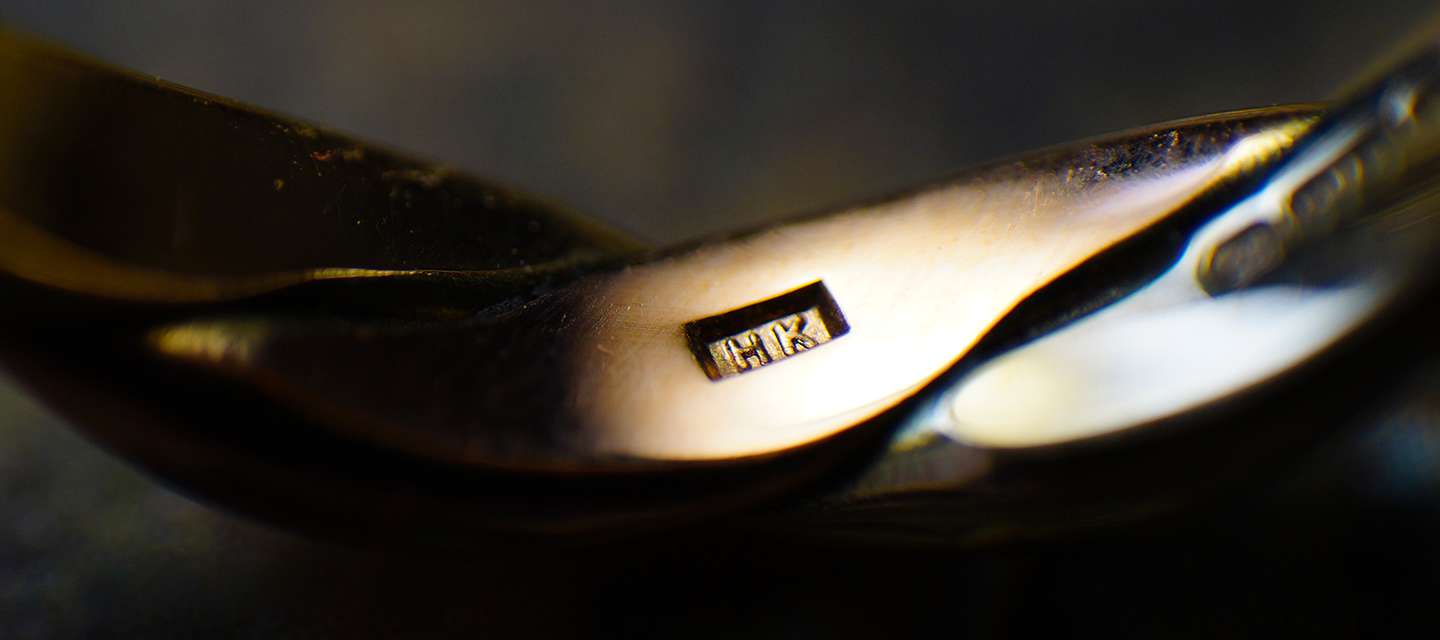 If you are considering making your own engagement ring, wedding ring or eternity ring, you might start thinking about hallmarks and their unique history. Today sadly many people are unaware of the unique historical place hallmarking has taken through time, and are even unaware of what these amazing marks mean.
Hallmarks have developed and changed over time and can be a fascinating tell tale sign of the unique history a piece of jewellery has. This article takes a look at one of the intriguing marks that you may see when looking at old engagement rings and wedding rings.
In 1784 there was an Act placed which was responsible for making the Assay Offices ensure that a duty was levied on all gold and silverware. This was a variable tax and had to be applied by assay offices across Great Britain.
A duty mark was applied to gold and silverware to indicate that the duty required had been paid. This mark was used between 2nd December1784 and 30th April 1890. There were however some pieces which were not marked, such as those exempt from hallmarking and watchcases after the year 1798.
The duty mark was in the form of a sovereign head in profile. During the time that the duty mark was applied the profile of George III, George IV, William IV and Queen Victoria were in use under the Act of 1784. The duty mark did not necessarily alter at the change of a monarch, so this cannot necessarily be relied upon for an indicator of date at which the item was assayed; this must be determined by examining the other marks made when the item was assayed. The direction in which the profile faced also altered, with it facing the left hand side between the years 1784-1786, facing right between1786-1836, then again to the left between1836-1890. This mark however was not applied by Edinburgh on items below the 18ct standard. In Dublin the sovereign's head duty mark was not applied until the year 1807, and in Glasgow this was not used until 1819. There are also some examples from Sheffield where the duty mark was applied twice. This has occurred on items hallmarked in 1797 where there was a six month period in which the duty tax had been raised, the assay office displayed this increase by marking its items with two sets of profiles of the monarch.
Care should be taken when looking at these marks as they could easily be confused with some of the commemorative hallmarks if care is not taken to examine the figures and cross reference the date mark. The King's Jubilee Mark was applied to celebrate George V's 25th year on the throne, the comprised of an image of the king and queen and was applied to silver plate items in 1935. The Coronation Mark was used to celebrate Elizabeth II's coronation, it featured an image of the queen and was applied to silver plate in 1952 and 1953. Elizabeth II also has used two other commemorative marks; the silver plate jubilee mark of 1977 to celebrate her 25th anniversary on the throne and the Golden Jubilee Mark which was applied to gold, silver and platinum to celebrate her 25th anniversary on the throne. There is of course currently in use the Queen's Diamond Jubilee mark which is being applied during 2011-12 to celebrate the Queen's 60th year on the throne. Each of these marks features an image of Queen Elizabeth II.
If an item during this period which had a duty mark was exported it could be applied with what is known as a draw-back mark. This indicated that the duty which had been paid had been refunded. This mark took the form of Britannia holding a shield and spear and was used between December 1784 and July 1785.