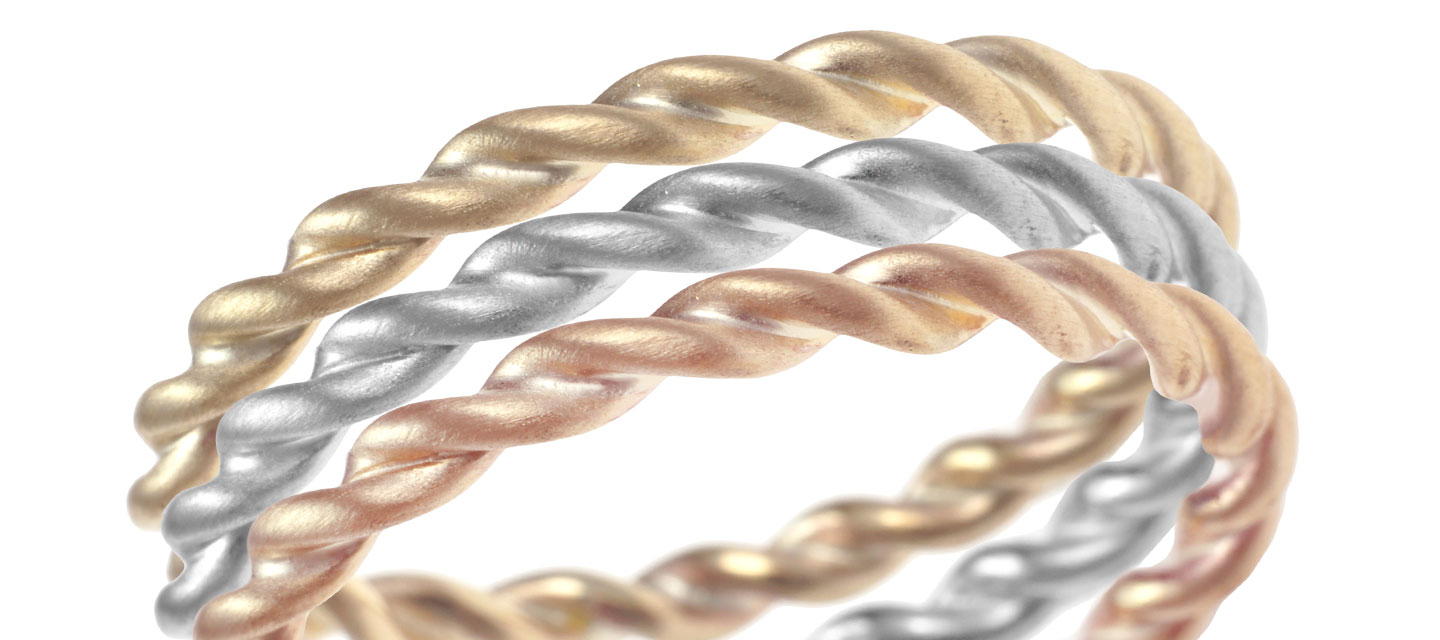 Choosing your bespoke stacking rings
The styling possibilities of stacking rings are endless.  Combining a collection of random rings, whether they may be new or old, achieves the eclectic look associated with the stacking style. A variety of stones, an ensemble of diamonds, or varying band widths all allow for plenty of creative combinations.
So why are so many customers asking for a deliberately designed stacking set? Perhaps they desire uniformity, consistency, or the ability to personalise their rings with their own choice of stones. Although stacking rings may be considered reflective of a modern style, the beauty of them is that they allow for total freedom of style. Whether you are after a more simplistic cluster or maybe a combination of brightly coloured gemstones and different coloured metals, there is no correct way to stack. Some of our most interesting stacking ring commissions have included combinations of the birthstones of each member of a family.
So, what do you need to know about purchasing stacking rings? Try to keep one element consistent, whether it's the profile, finish, or colour of the metal. Gemstones are the perfect way to add colour to stacking rings and really make a statement when set against a plain band. To achieve a feminine look, opt for an array of pastel shades such as brilliant rose quartz, rose cut yellow diamonds or cabochon cut moonstones, all of which sit perfectly alongside the warm tones of yellow or rose gold. For an eye-catching set, team sparkling white gold with vivid colours like bright green tourmaline, neon yellow citrine and piercing red spinel . On choosing the perfect stone, their size can determine their setting and therefore how they fit alongside other bands. A flat band with a risen setting will allow the rings to sit flush against one another.  The addition of a gentle curve to a flat band is also a good choice as it achieves a uniform finish with added comfort. Halo bands create the appearance of individual rings and although they won't always sit flush against each other the combination still creates a charming design. To create an organic stack, opt for settings which are incorporated into the band to leave small gaps in-between each ring creating a unique style.
Widths should be dependent on finger size so it is important to select a width and profile which are most comfortable to you.  To comfortably wear several rings on one finger, band widths of 2-3mm will ensure you can bend your finger with ease. Ideally the depth of the ring should be kept the same to give a consistent finish, but as stacking rings are all completely unique a combination of different depths will achieve a distinctive look.
The interchangeable and adjustable nature of stacking rings means they could be considered the new charm bracelet, with elements to suit every style. Whether you're after a chunky or delicate look, the stacking ring allows for multiple design arrangements, each one creating a new sense of character and charm.