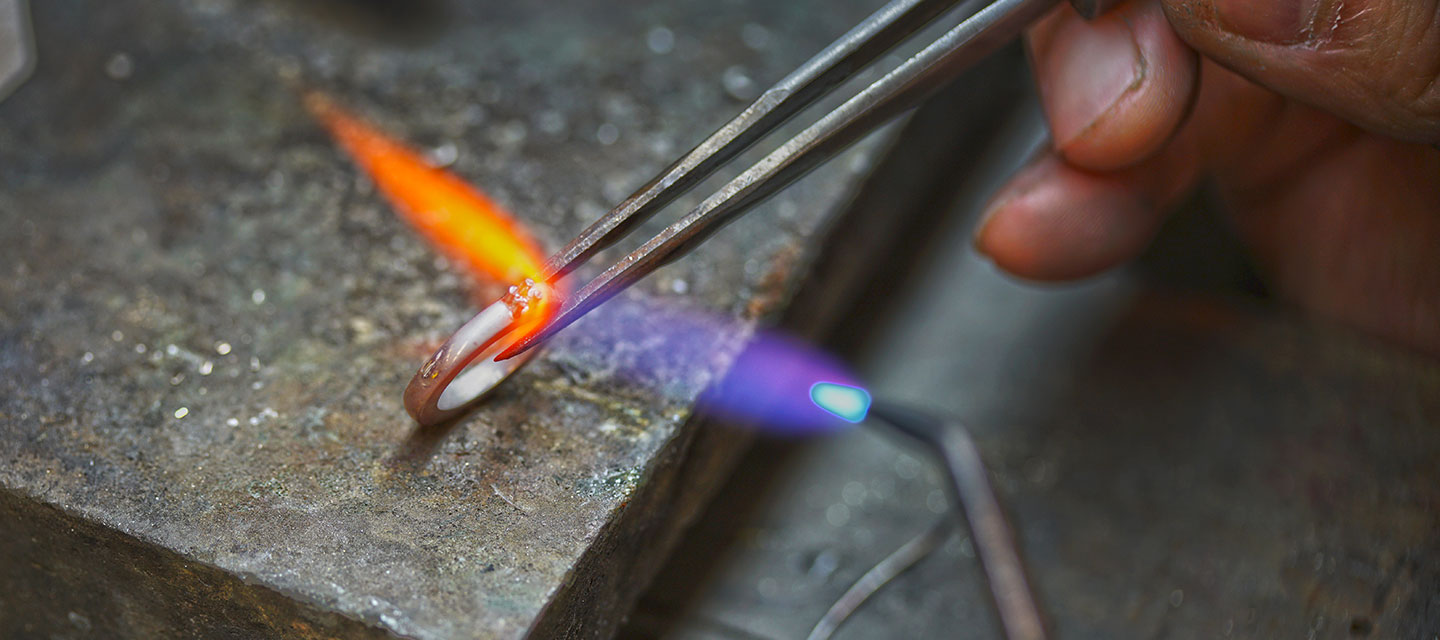 Alternative Proposal Jewellery
We love working with customers to help them to commission the perfect piece of jewellery with which to propose. Whilst an engagement ring remains the most popular of choices, for some couples a ring may not be practical or another piece of jewellery may be more symbolic for them. I recently had the chance to help our customer David design an engagement pendant to propose to his now fiancé Eleanor. David knew that Eleanor – a doctor, water-sports enthusiast (the couple met whilst kayaking) is someone who doesn't frequently wear jewellery and would therefore not want a ring. He decided he wanted to commission a pendant to present to Eleanor so that she could still wear a beautiful piece of jewellery on special occasions and something that would have the same symbolism as an engagement ring.
This particular design has subtle nods to a classic engagement ring. David liked the idea of having a complete circle of sparkling diamonds and a stone set on top to echo a ring when viewed from the side. David chose a pale blue sapphire to represent the couple's love of water and as a hint towards the bow worn by Minnie Mouse- Eleanor's favourite Disney character loves. The 'ring' is suspended either side on a delicate chain all in bright white palladium which complements the diamonds beautifully.
Wearing a piece of jewellery to represent your engagement is an entirely personal choice, so if you don't feel that a ring is right for yourself or your partner there are lots of different options you could consider. A necklace is a great option for a piece to be worn every day, or something more ornate to be worn for special occasions.
A solitaire style pendant like this one here: https://www.hkjewellery.co.uk/earneck-17015-annes-rose-and-white-gold-pendant-using-her-mums-diamond is classic and timeless and a nod to a traditional solitaire engagement ring. This previous commission is a lovely idea to inspire an engagement bracelet with a single diamond in the centre: https://www.hkjewellery.co.uk/other-19386-helens-9-carat-yellow-gold-and-diamond-torque-bangle, you could also think about incorporating your partner's favourite gemstone or birthstone in to the design.
A pair of hoop earrings will also echo the form of a ring either with stones set all the way around or a single stone reminiscent of a solitaire design like this design here: https://www.hkjewellery.co.uk/earneck-4043-abbies-blue-sapphire-and-silver-earrings.
Just as with bespoke ring designs, we can create a pendant, bracelet, earrings, or other piece of jewellery that is truly a one off and captures everything that is special about you as a couple. If you are thinking of creating an out-of-the-box piece of engagement jewellery then we would love to have a chat with you and start developing your own design ideas.