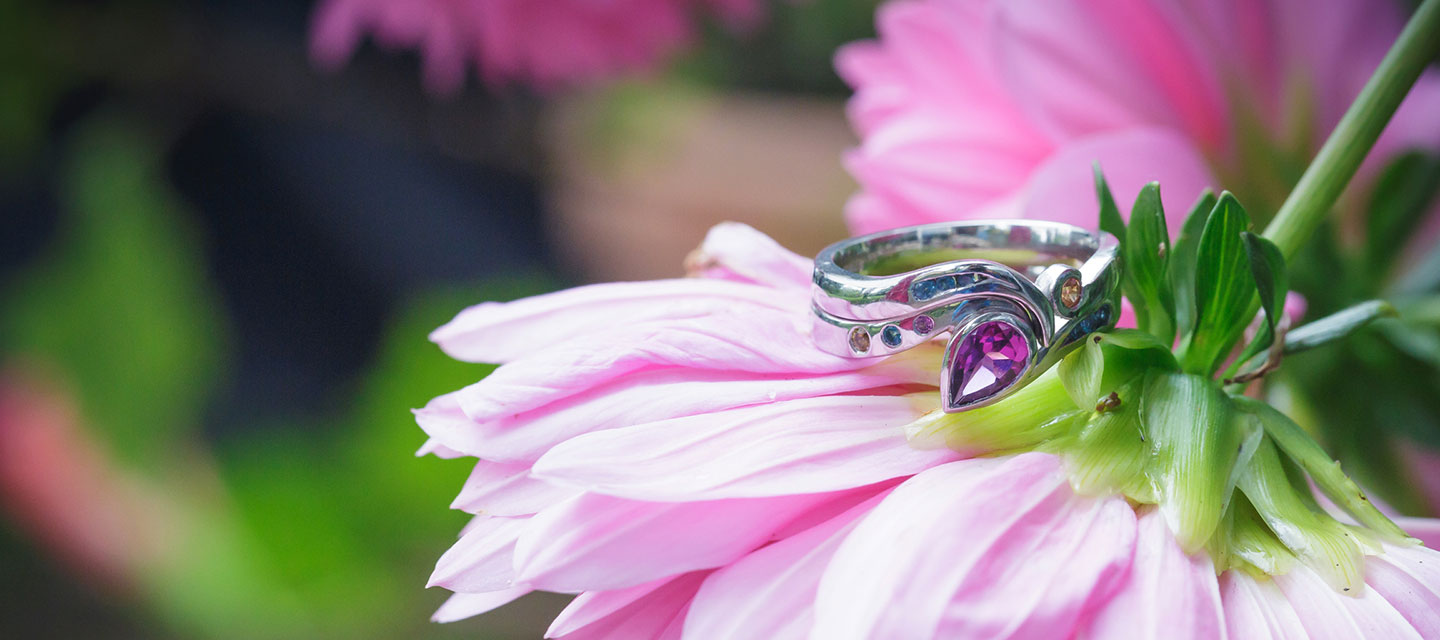 A Picture Perfect Engagement Ring
Sue first contacted us through our website, having created an inspiration board of beautiful, asymmetric and colourful engagement rings with a lovely feel of movement.  She also uploaded a few images of some striking, splashy watercolour paintings, and I was over the moon to find out they were her own work. The colours sing – they have such vibrancy and life – and Sue was really pleased when I suggested that we could use these as inspiration for her own engagement and wedding ring set.  We had a conversation over the phone and I suggested that rather than me coming up with a design and telling her which gemstones should go where, I would draw up some ideas and e-mail them to Sue in black and white so she could add colour to them as she felt appropriate.  We actually ended up combining a few of the designs to end up with the final set, and once we knew which colours I then worked out which gemstones would match.
Taking inspiration from her paintings, Sue decided to have the main stone in her engagement ring in a bright purpley pink. She mentioned that the pink and orange abstract paintings were also going to inspire her wedding dress, which I got incredibly excited about! The ring design focuses around a pear cut grape garnet, which gives that perfect mix of pink and purple tones, and has a richness that contrasts beautifully with the other colours. We chose topaz for the turquoisey blues and citrine for the bright orange and yellow… a stunning and unusual combination which works so well in this interpretation of the paintings; the combination of channel setting and invisibly setting these stones echoes the sweeping lines and splashy feeling. The bright white of the palladium provides a perfect backdrop as it makes the gemstones really stand out, in the same way that the bright white of paper glows through water colour paints.
As with any commission, it is always an honour to be trusted to create something with such sentimental value. Sue was delighted with her rings, and I think they have probably been my favourite set that I have worked on – hearing all about her wedding plans and talking to someone who is so enthusiastic about colour was a real joy.  I was so pleased to then see photos of the wedding, and especially of her dress, which was actually designed and hand painted by Carole Waller www.carolewaller.co.uk.  I'm delighted to be allowed to share some of those pictures here. It looks like the happiest of days!
Photos by Jenny Stewart https://www.jennystewart.co.uk